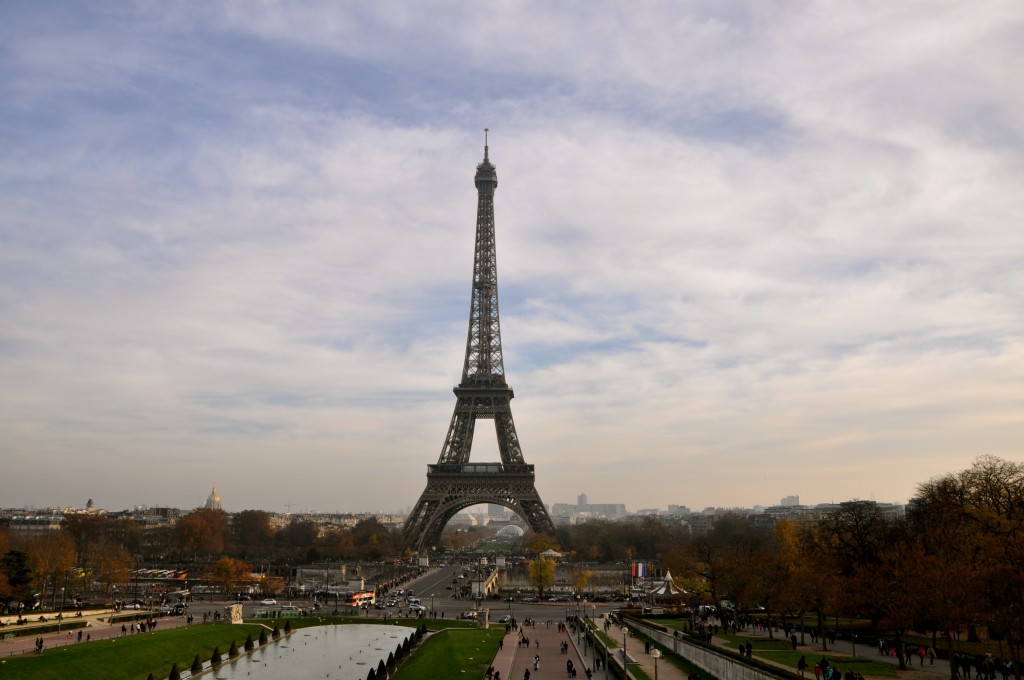 Paris for us is one of the most beautiful cities to visit in Europe. Whenever we are yearning to explore and immerse ourselves into one of the greatest cultures of the world, we pack our bags and go. Over the years we have experienced the well know tourist attractions but also the simple treasures that Paris holds in almost every corner of the city.  Walking through the distinctly different neighborhoods, and indulging in the absurdly fresh local cuisine, we quickly understood why the French are so passionate about their country.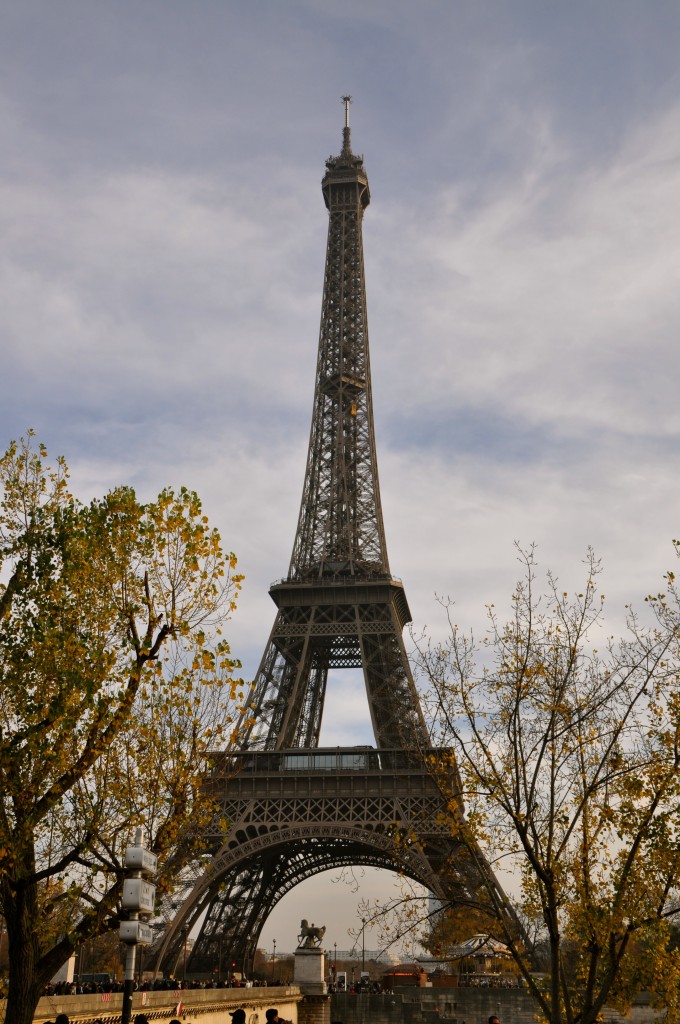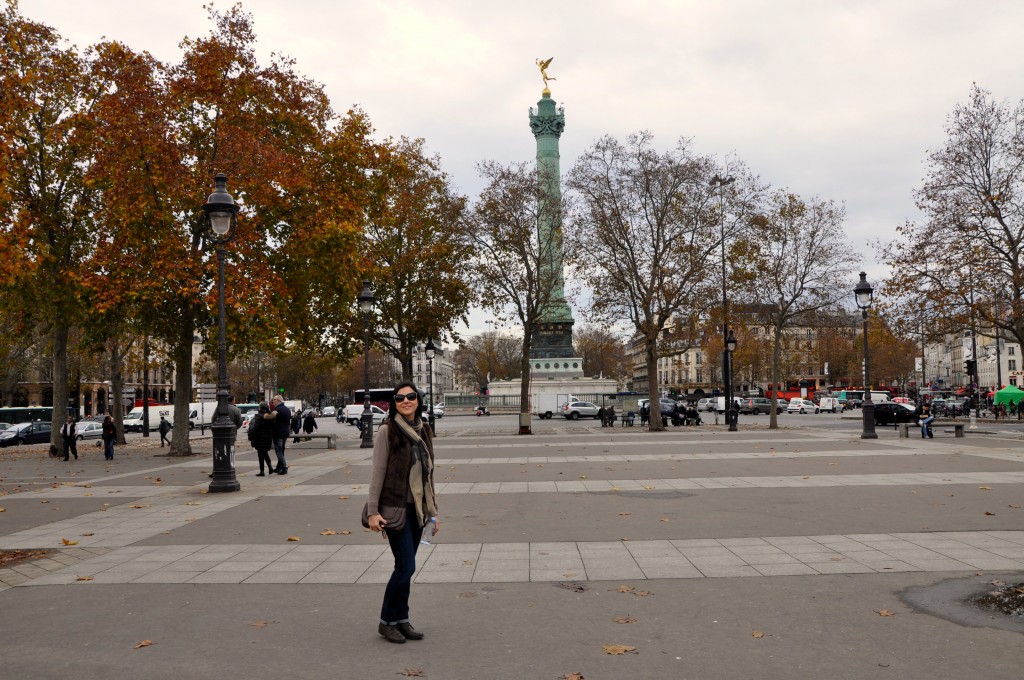 Our first stop during this visit was Place de la Bastille, located in an area called Bastille, which sits at the crossroads of  the 4th, 11th and 12th arrondissements. The square features the July Column or Colonne de Juillet, and it was the location of the historic "storming of the Bastille" during the French Revolution. Across the way is the Bastille Opera and you can also capture a glimpse of the Canal Saint Martin from here as well.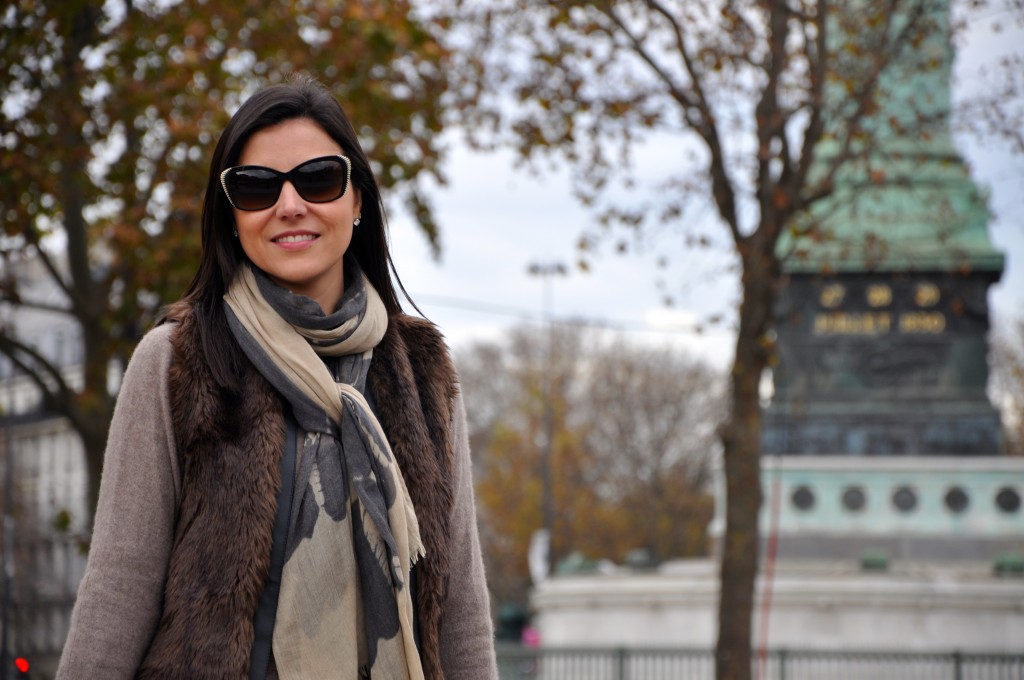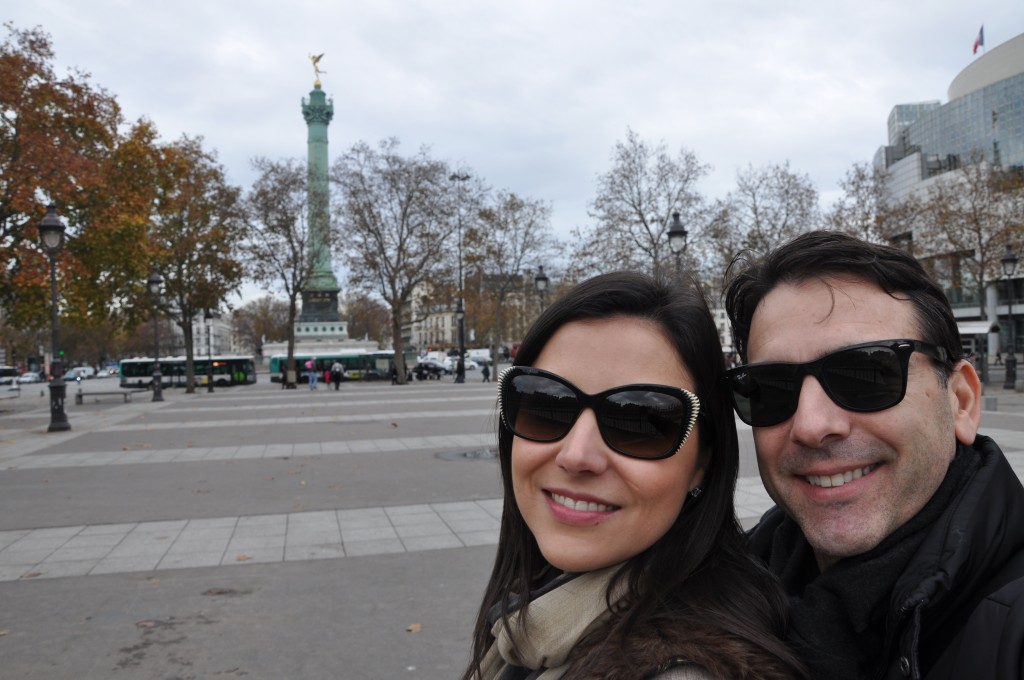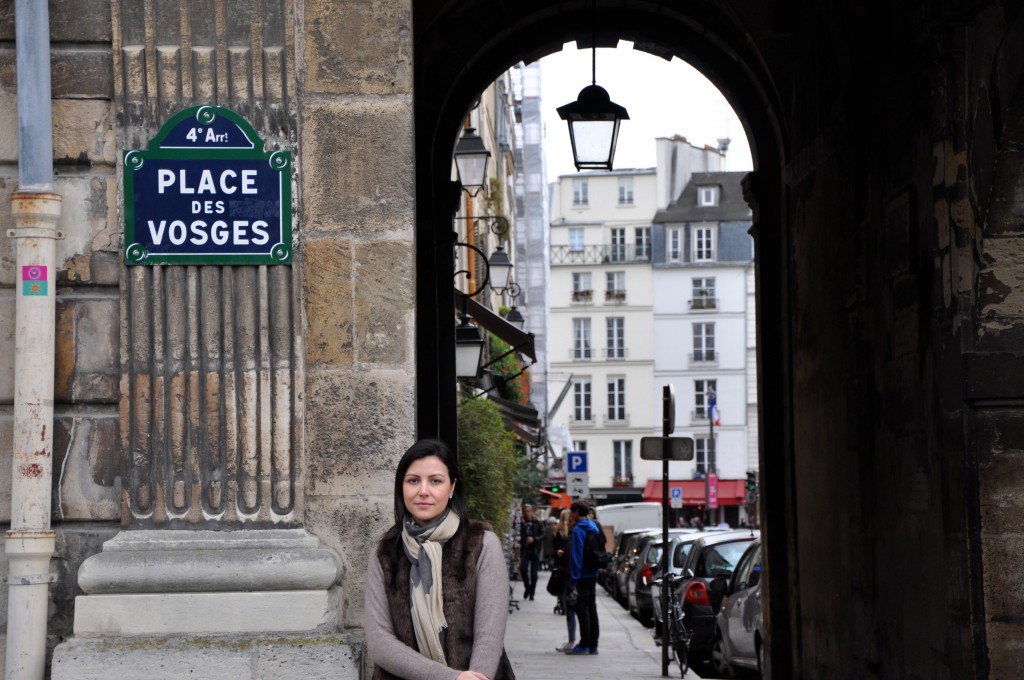 We made our way down Rue de Rivoli through the winding streets of the Lower Marais (4th arrondissement) to Place des Vosges. Here we found the Maison de Victor Hugo, author of "Les Miserables,"  overlooking one of the oldest planned squares in Paris.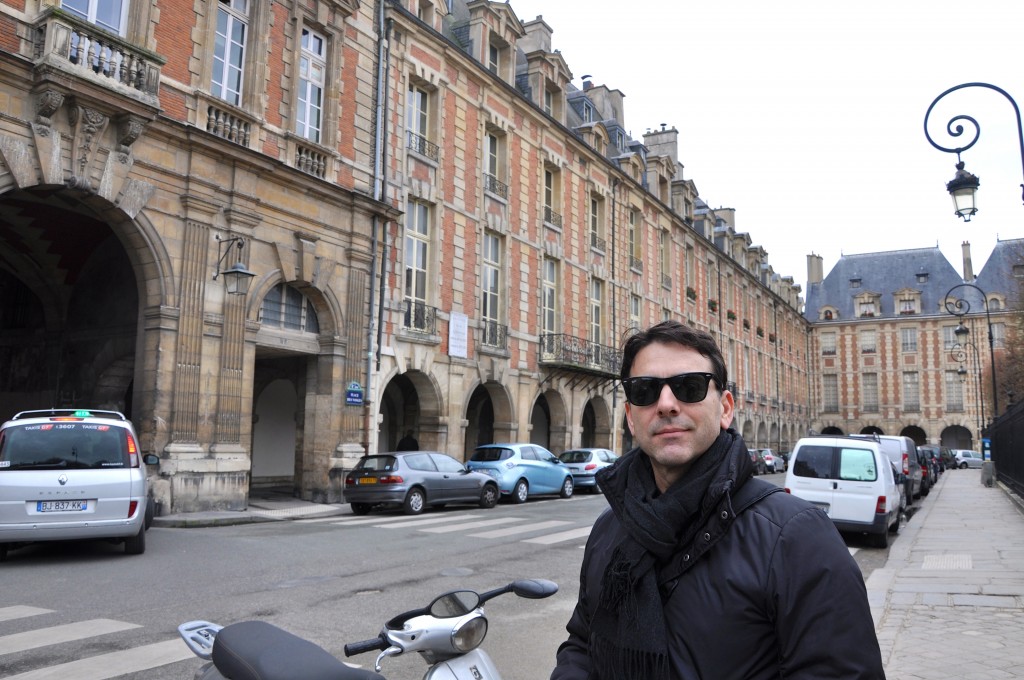 Admiring the classic French style buildings, we exited the beautifully kept square at the north entrance and continued our walk under the arches only to discover shops and restaurants along the square. We continued north on Rue de Turenne, crossing into the 3rd arrondissement and followed the signs to our next destination, The Picasso National Museum.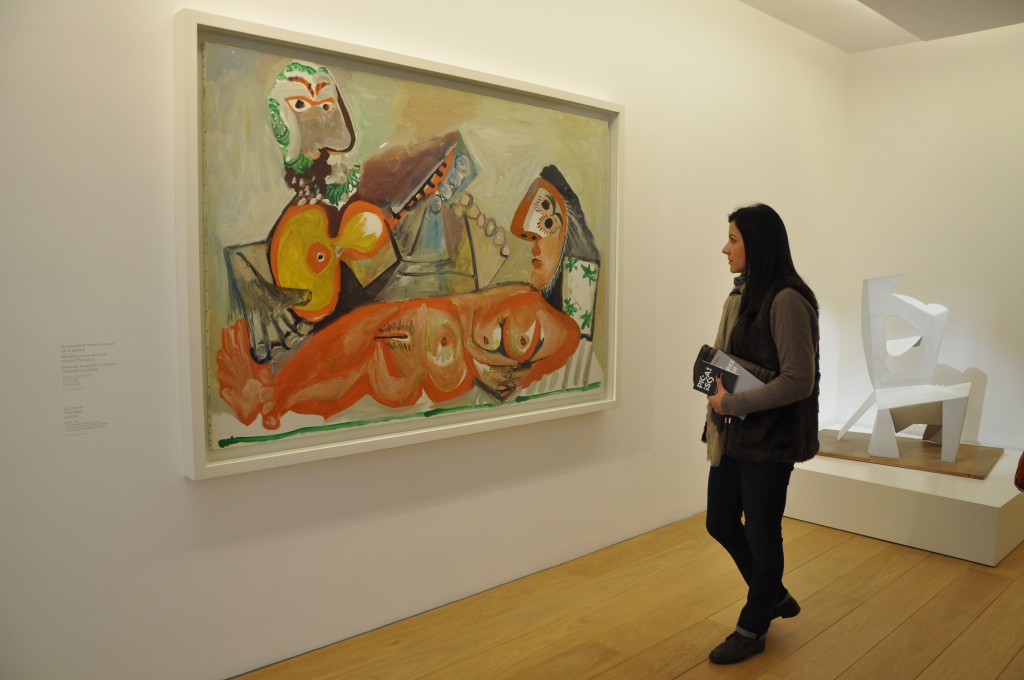 The Picasso Museum reopened in 2014 after being closed since 2009 for expansion. The museum, located in a beautiful Baroque mansion at 5 Rue de Thorigny, houses over 5,000 works of Picasso including personal archives of the artist. There were two lines to enter. One for those who had pre-purchased tickets and one for those wishing to purchase tickets that day.  The pre-purchase line moved quickly, the other did not. Our advice is to purchase tickets online (you will be given an entrance time) before you go. The museum only allows a certain number of people in the building at a time. You'll wait in an open courtyard, so come prepared with a hat or umbrella in case of sun or rain. Once inside the museum you'll find the exhibition well worth the wait.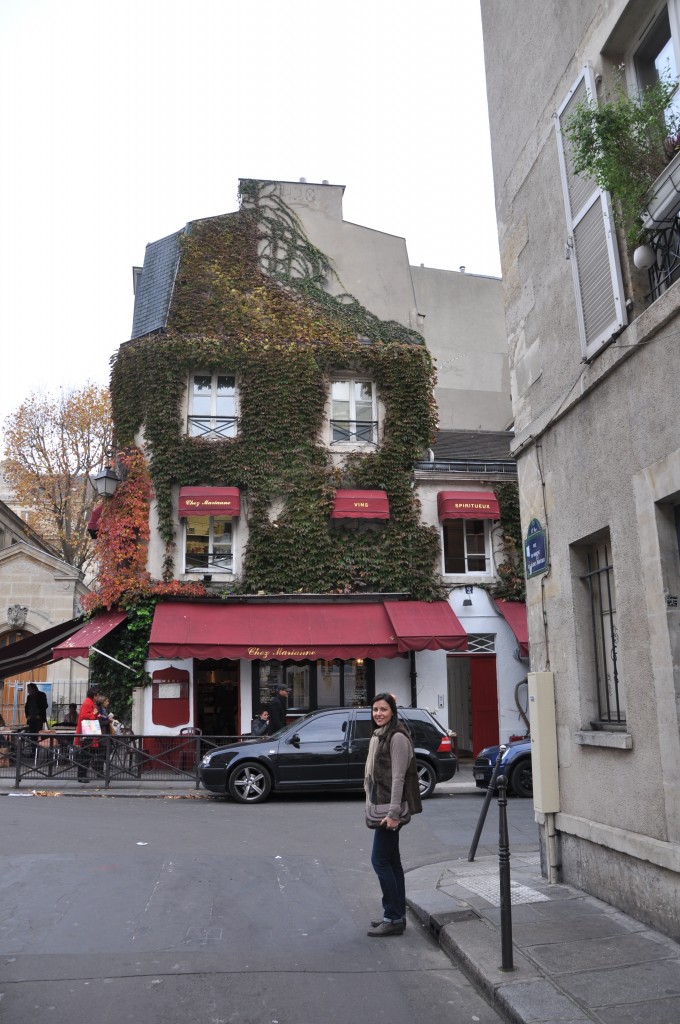 After the museum it was time for lunch. We decided to head towards the city's oldest Jewish quarter in search for Mi-Va-Mi and their famous falafel sandwich. We walked along Rue Vielle du Temple until arriving at the historic Rue des Rosiers which runs through the heart of the Jewish quarter. Along the way we admired the beauty of the neighborhood and envied the daily life of those who call The Marais home.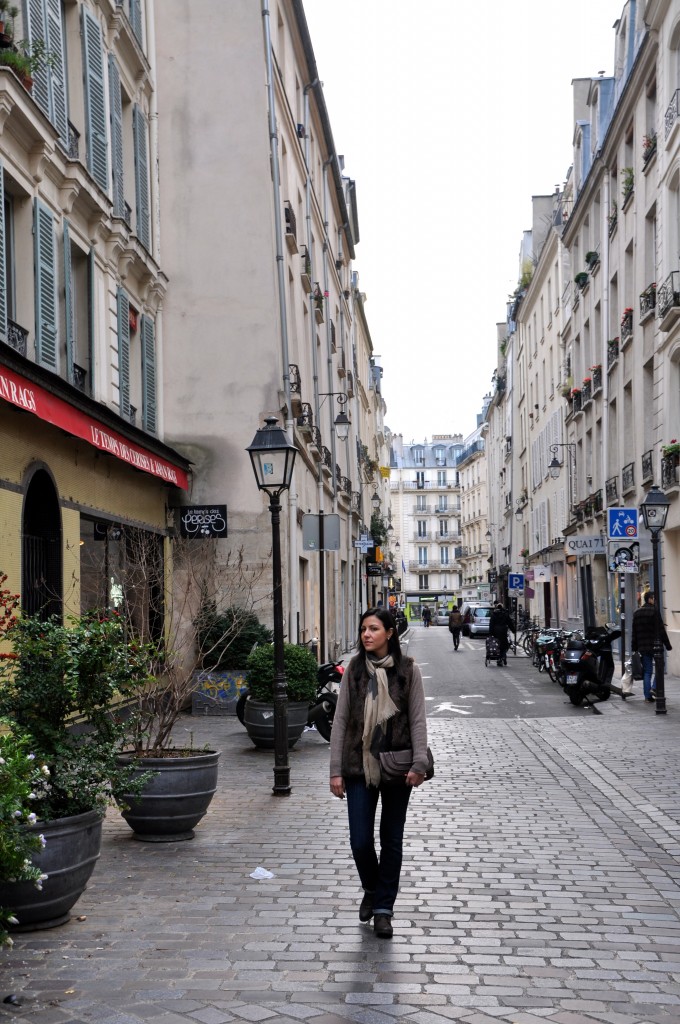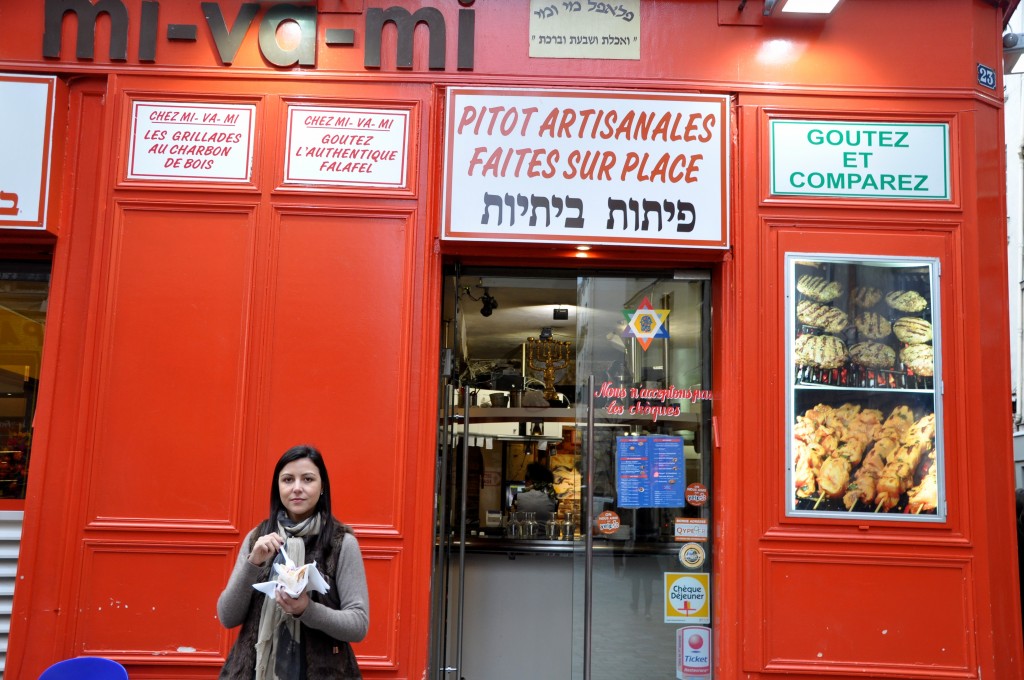 We found our falafel place! The line at Mi-Va- Mi was a bit long (usually a good sign) but when it was our turn, we ordered our falafel through the take away window and were rewarded with an incredibly fresh and delicious falafel. They stuff so many toppings on it, but you're provide with a fork so you can enjoy every bit of it.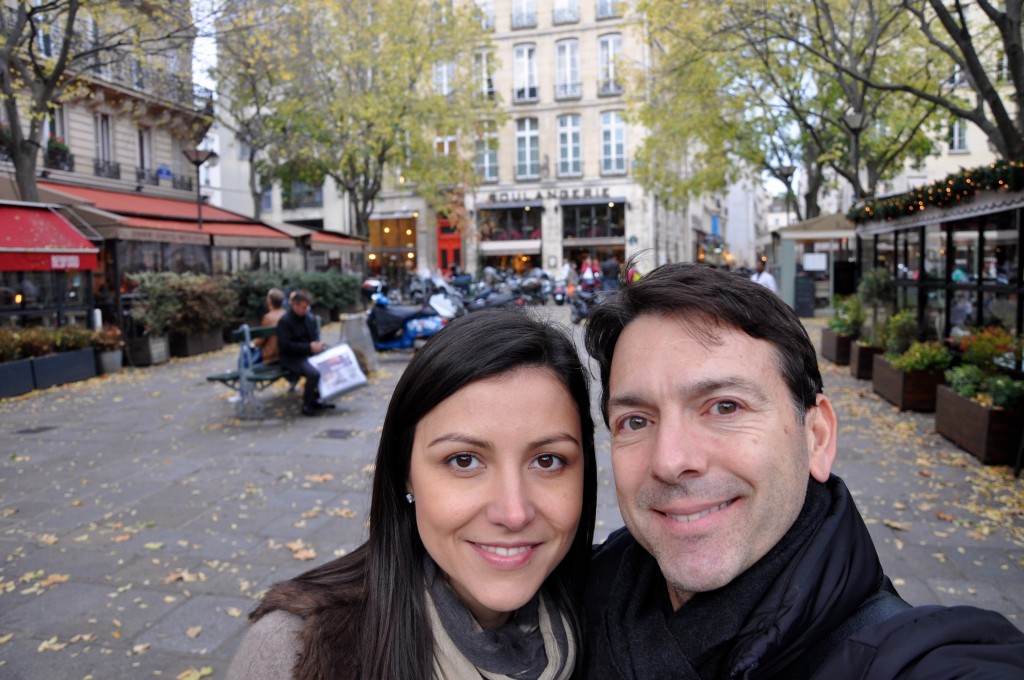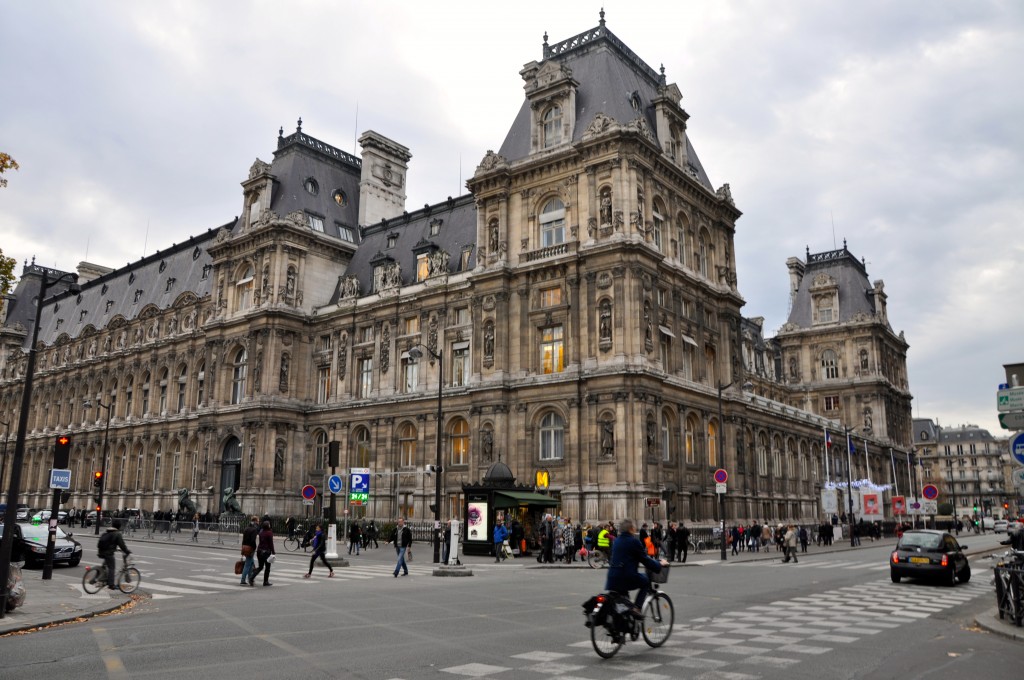 Continuing our walk through the 4th arrondissiment we walk right into the utterly unique and very colorful Centre Georges Pompidou. The Pompidou Center is hard to describe. We stood in the piazza to admire the building. It's really something to see. Stairs to the entrance of the building are located on the outside. Inside you'll find 6 floors of exhibit space providing hours of exploring. Several major exhibitions are on display throughout the year. When we visited, the works of Marcel Duchamp and Jeff Koons were featured. From the top floor of the Centre you'll find spectacular views of Paris and there's even a rooftop restaurant to enjoy a relaxing lunch or dinner.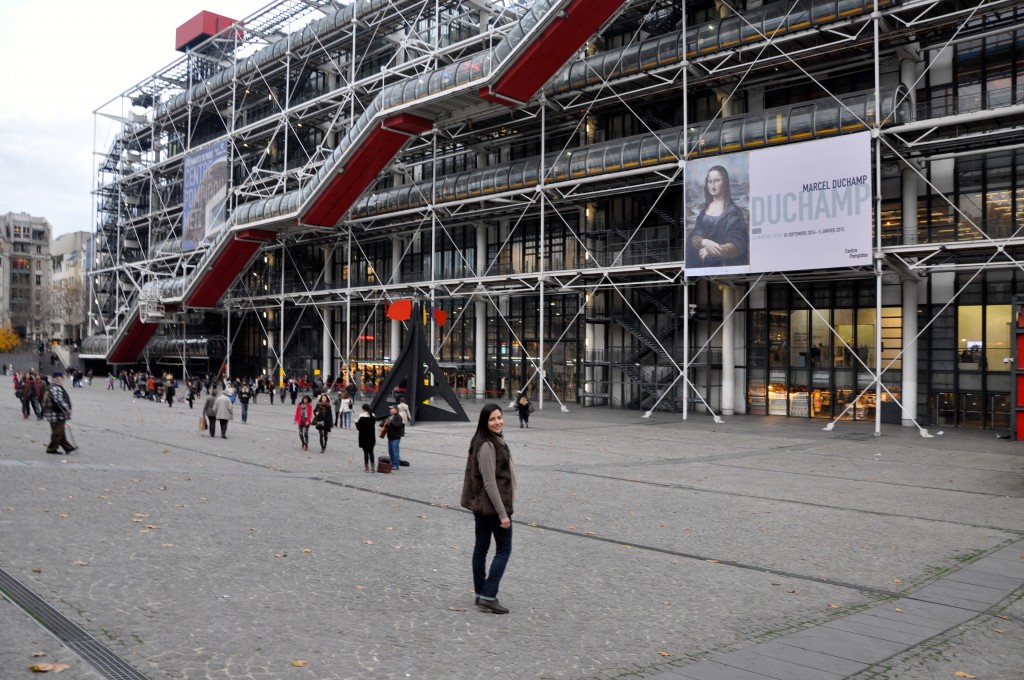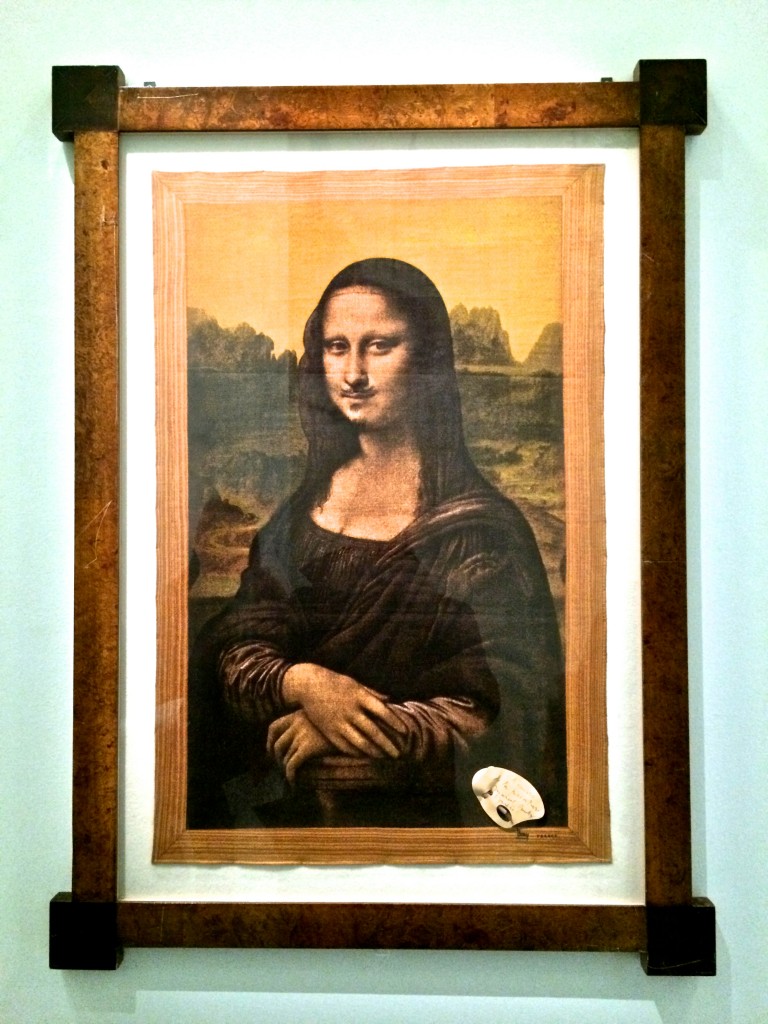 That night we experienced another delicieux dinner at Market by Jean-Georges located one block off the Champs Élysées. Fans of Jean-Georges will appreciate the simple elegant surroundings and the exquisite menu offered, first timers will promise to return.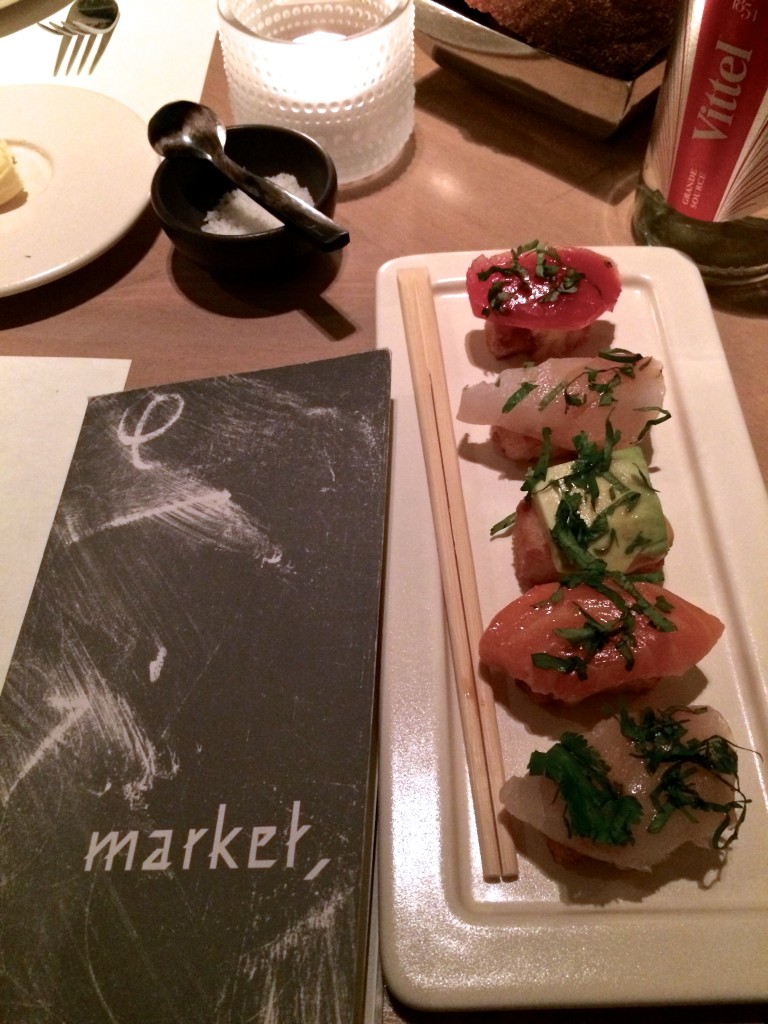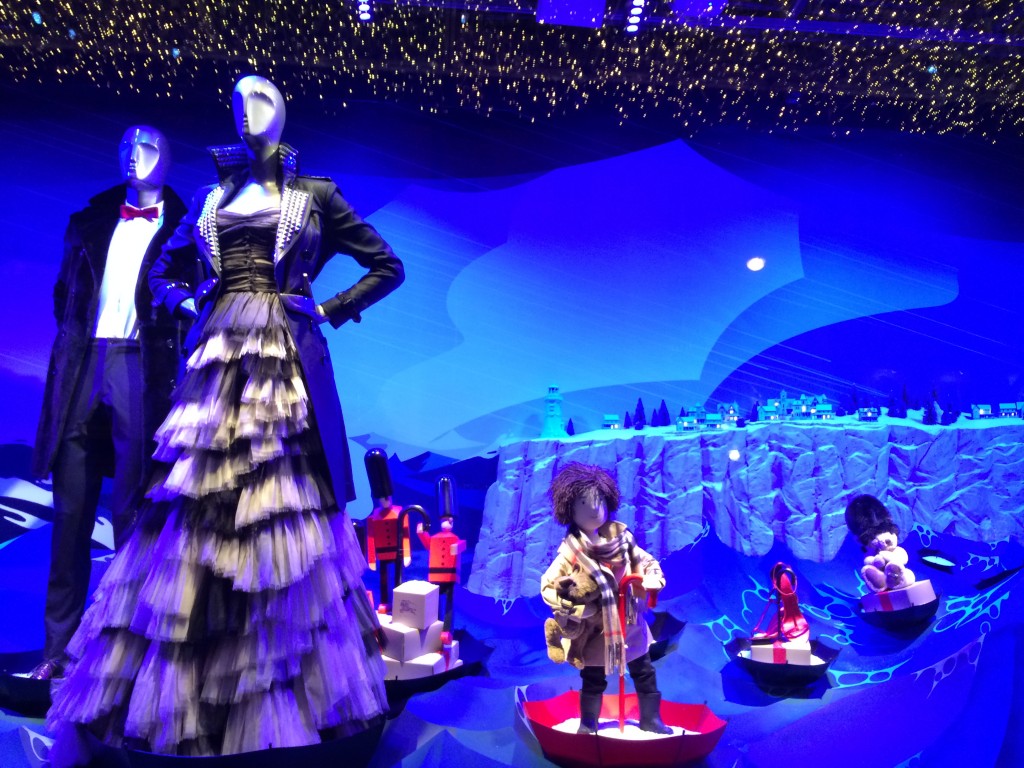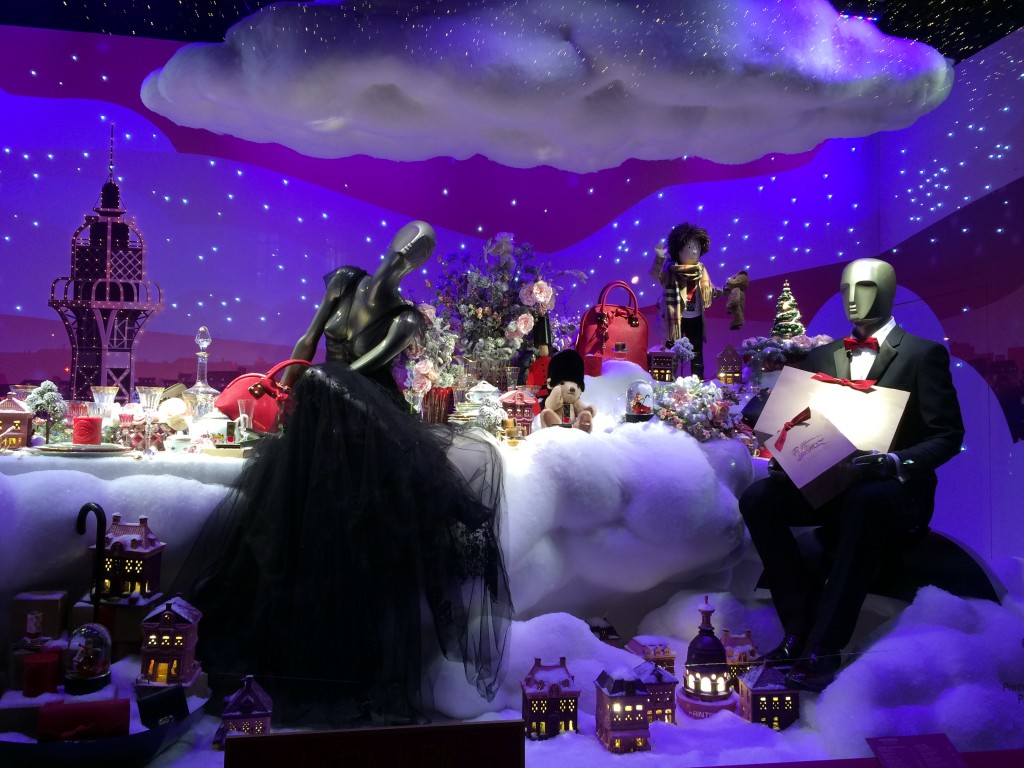 Paris is a city to stroll and explore. Not only are there historic sights to see, but shopping is an adventure in itself. From simple to extravagant, Paris holds something for everyone. After a morning breakfast of croissant and coffee, our shopping day began at Christian Louboutin, famous for womens and men's shoes, and followed with a visit to Ladurée for macaroons, Maille for their creative flavors of mustard and Galeries Lafayette.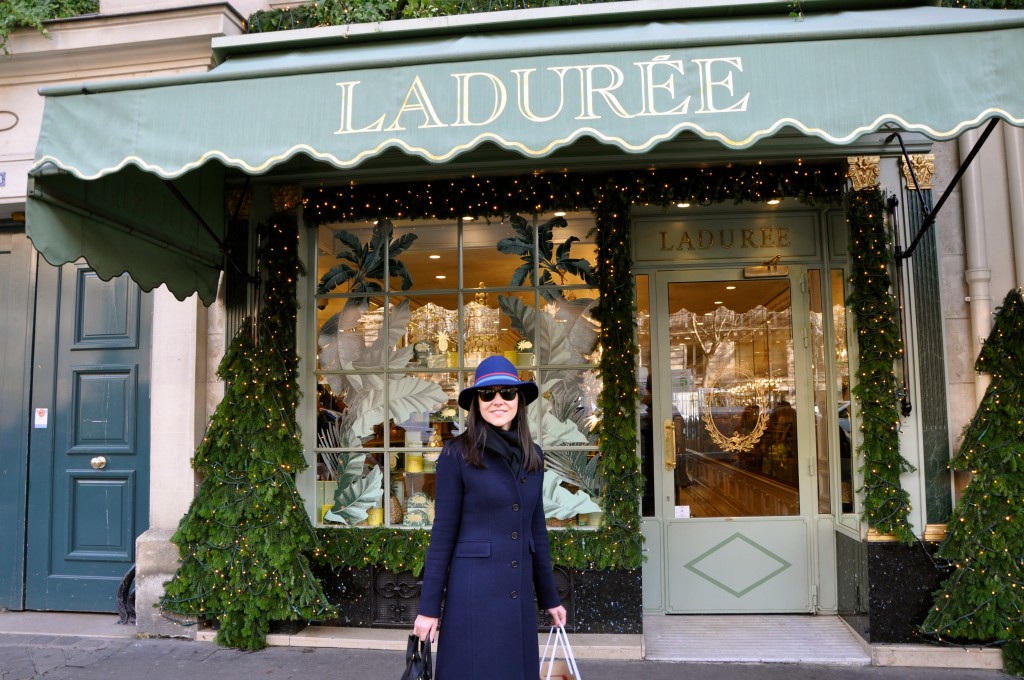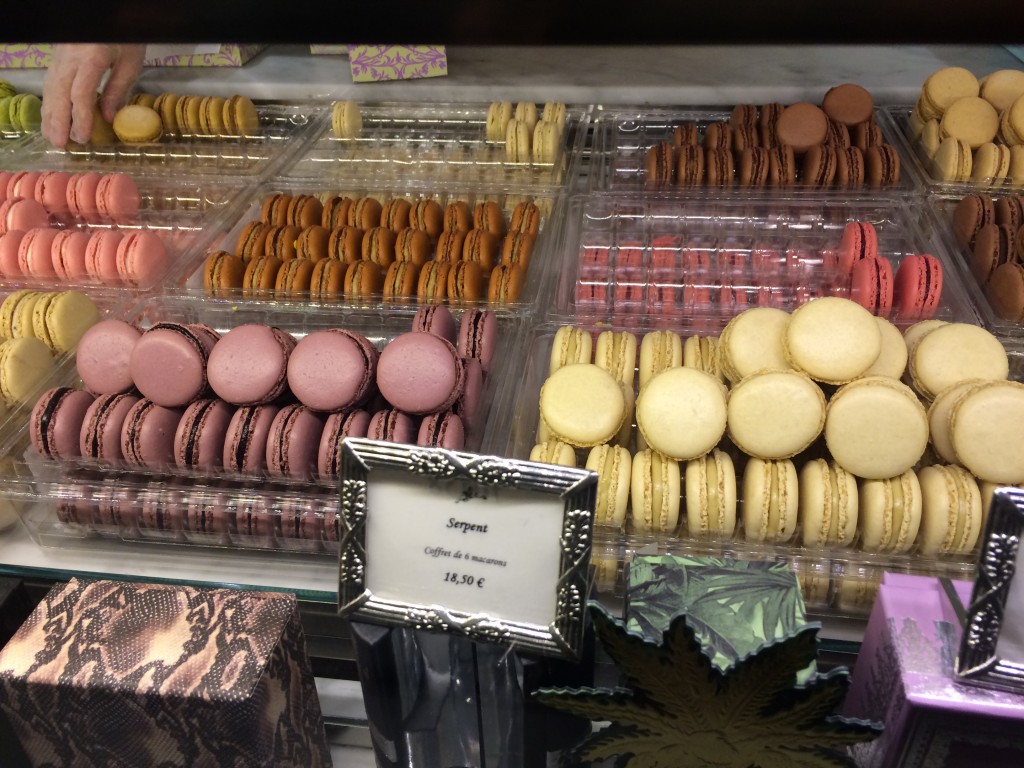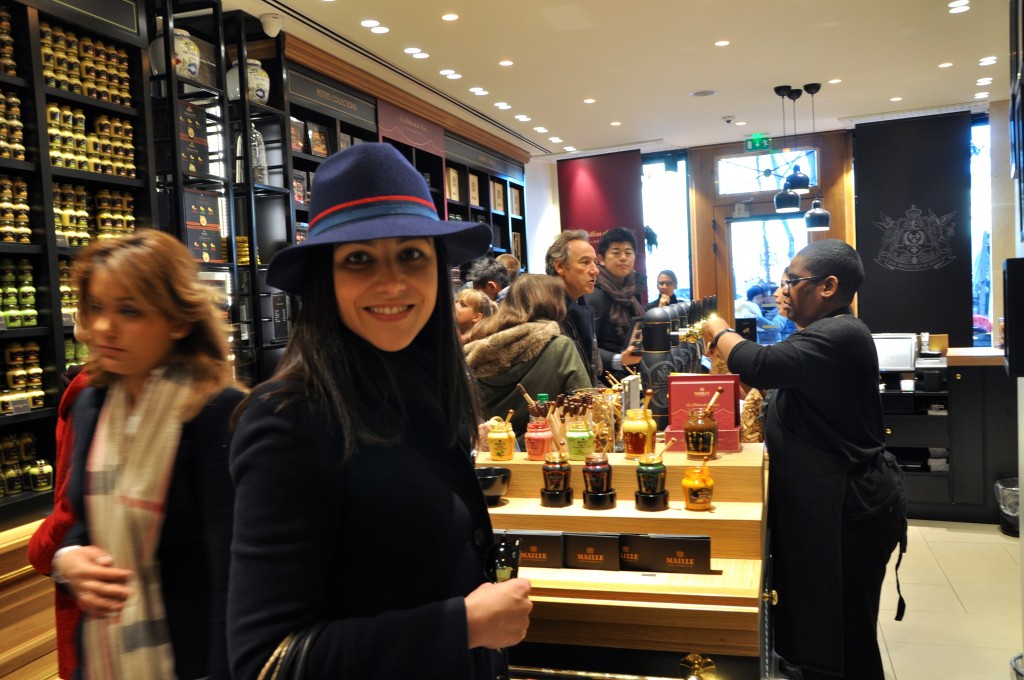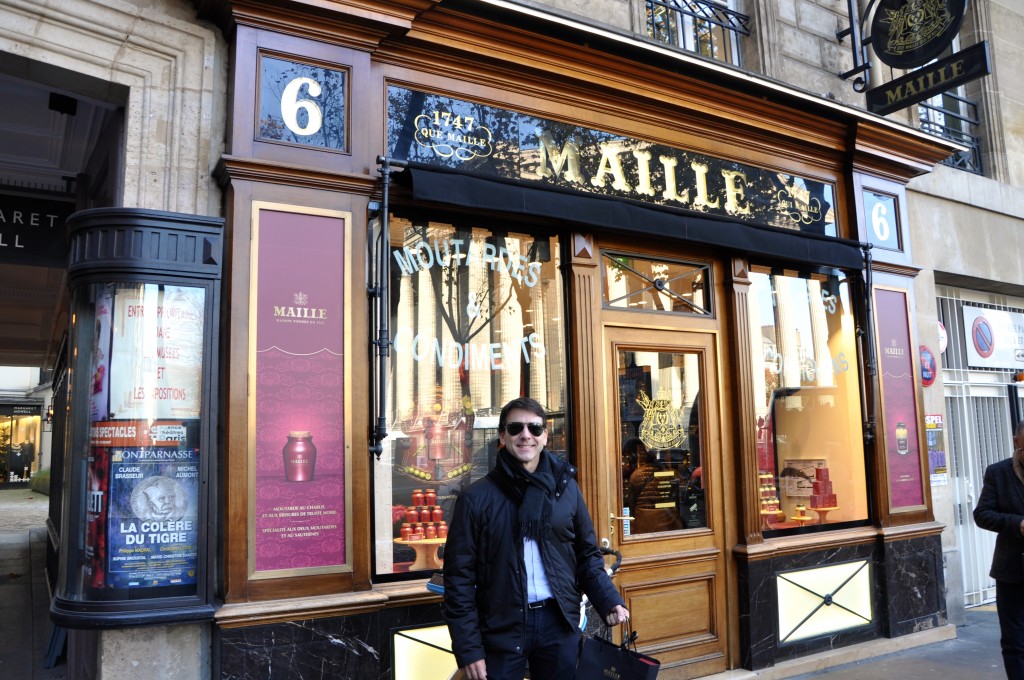 We also visited Le Marquis de Ladurée, located at Place Vendome. Here we found a wonderful assortment of chocolates created by the same folks behind the famous macaroons. They also serve a very rich and delicious chocolat chaud!
While wandering through the Saint-Germain-des-Prés neighborhood, we passed in front of an éclair shop, L'Éclair de Génie. Looking through the window, we could see the beautiful éclairs just waiting there for us too try. We couldn't stop ourselves from entering the shop. We were rewarded with the most fabulous tasting éclairs!! With flavors like passion fruit, coconut, yuzu and salted caramel to name a few, we were sold. Not only were they beautiful to look at, but they were super delicious as well. Somehow an extra box of six made it to our hotel. They have several locations in Paris, so look for them on your next visit. You'll be glad you did.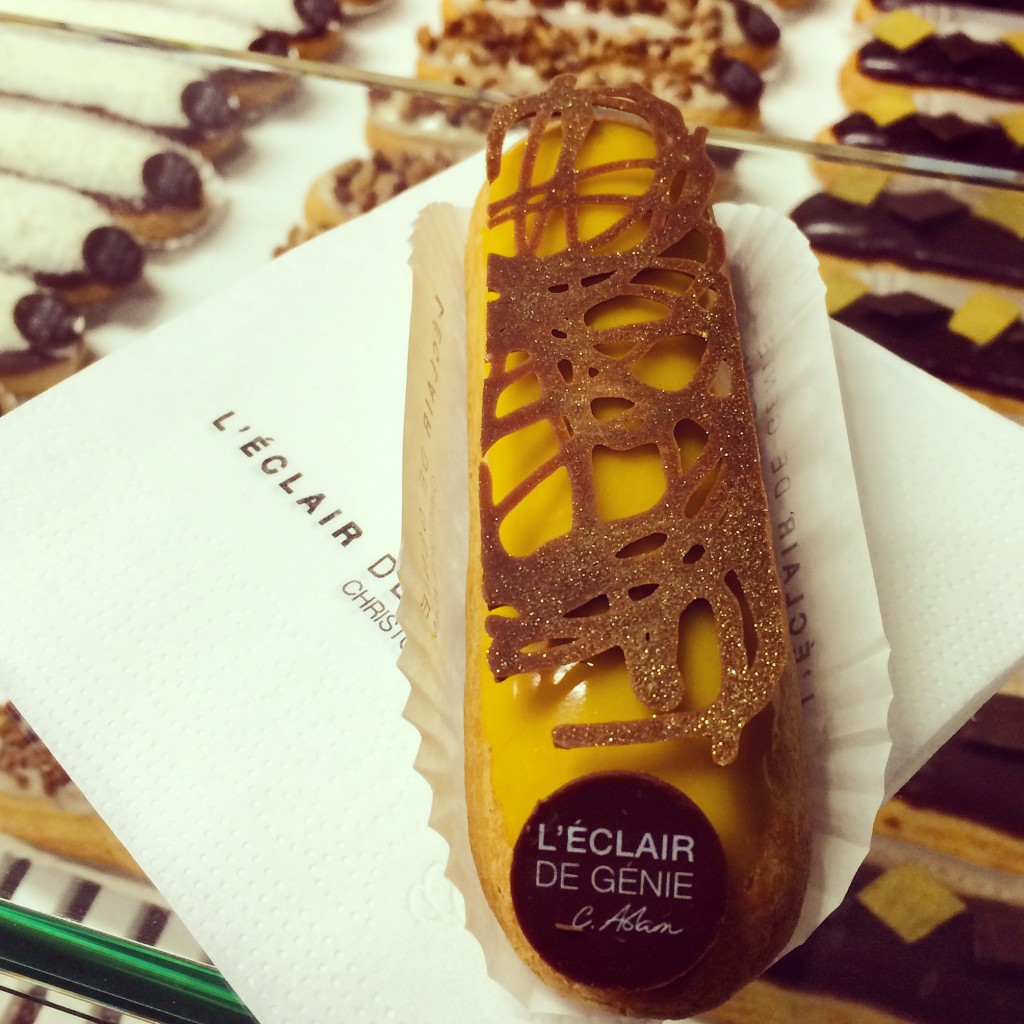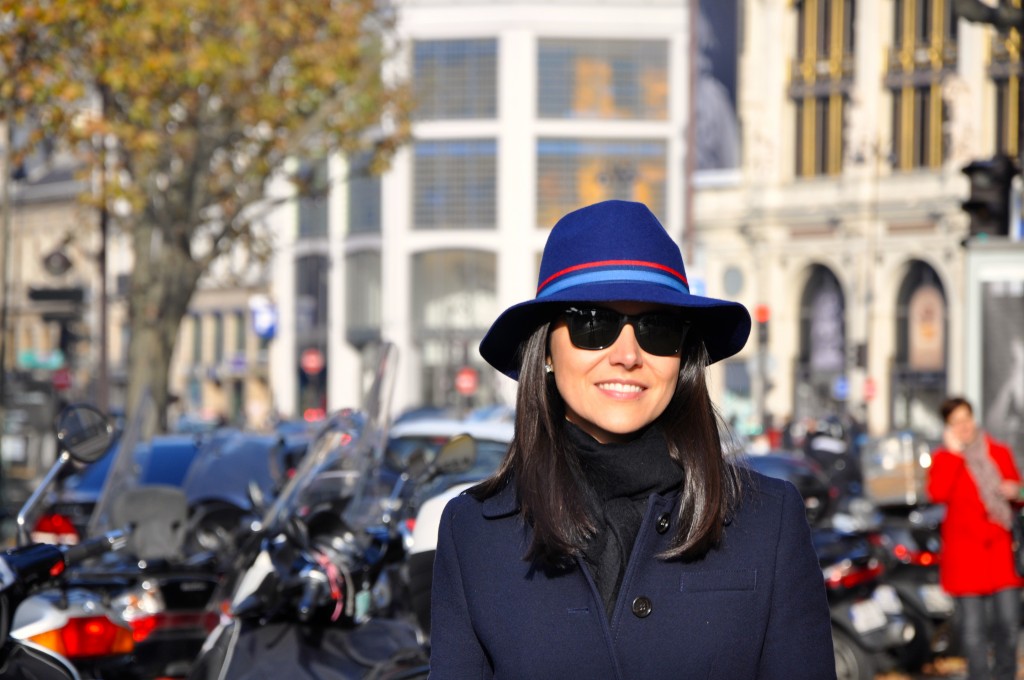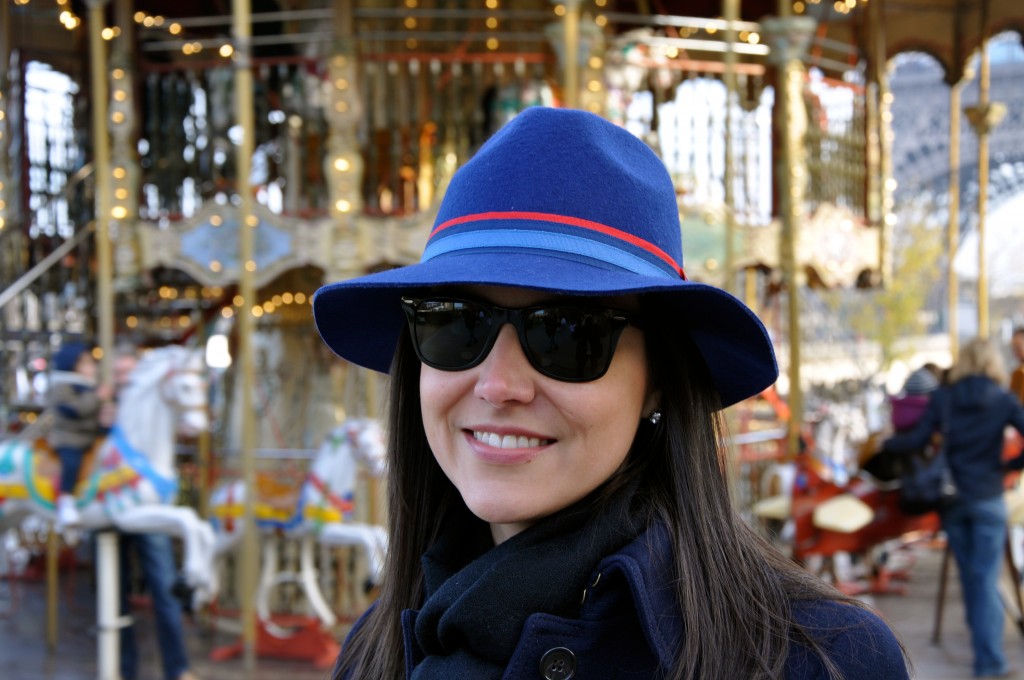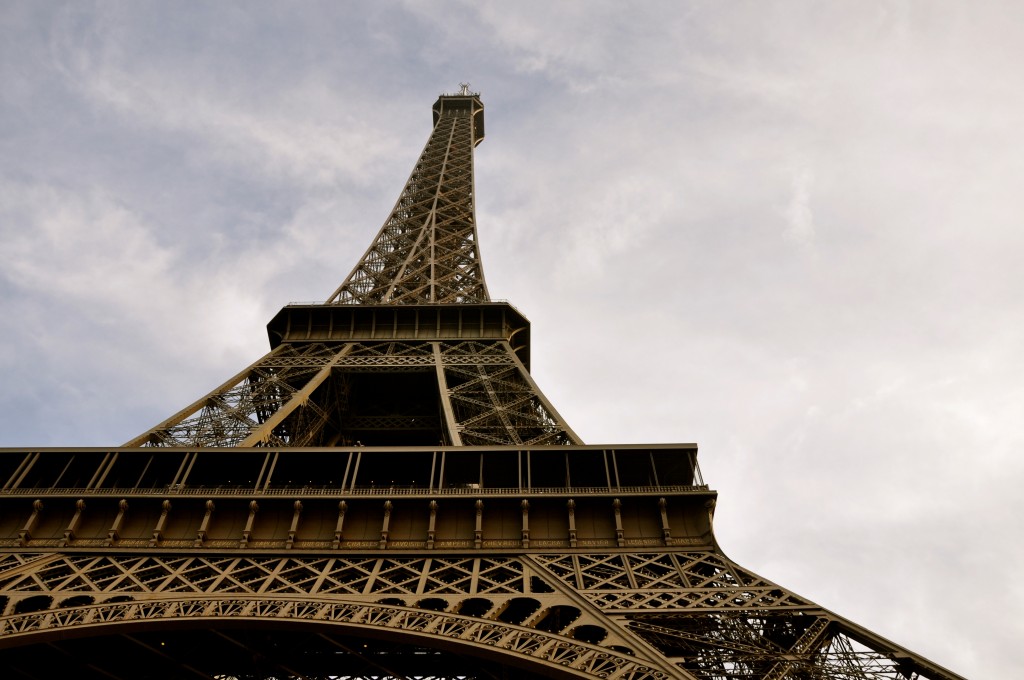 There are so many parks to visit in France, but one of our favorites is The Luxembourg Gardens or Jardin du Luxembourg. We love walking the impeccably kept grounds and admiring the beautiful fountains, statues, and gardens. This is a great place to do some people watching or just sit on one of the many park benches and take in the calming atmosphere.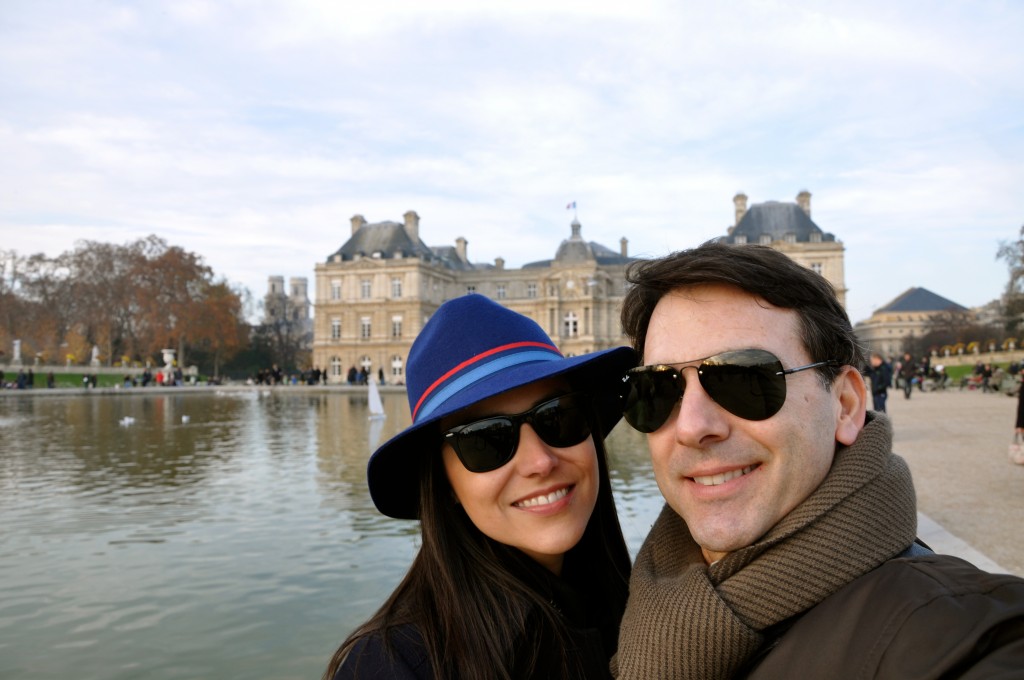 Inside the gardens, don't forget to look for the spectacular Medici Fountain or La Fontaine Medicis. Make your way around the backside of the fountain and you'll find another hidden gem, the Fontaine de Leda.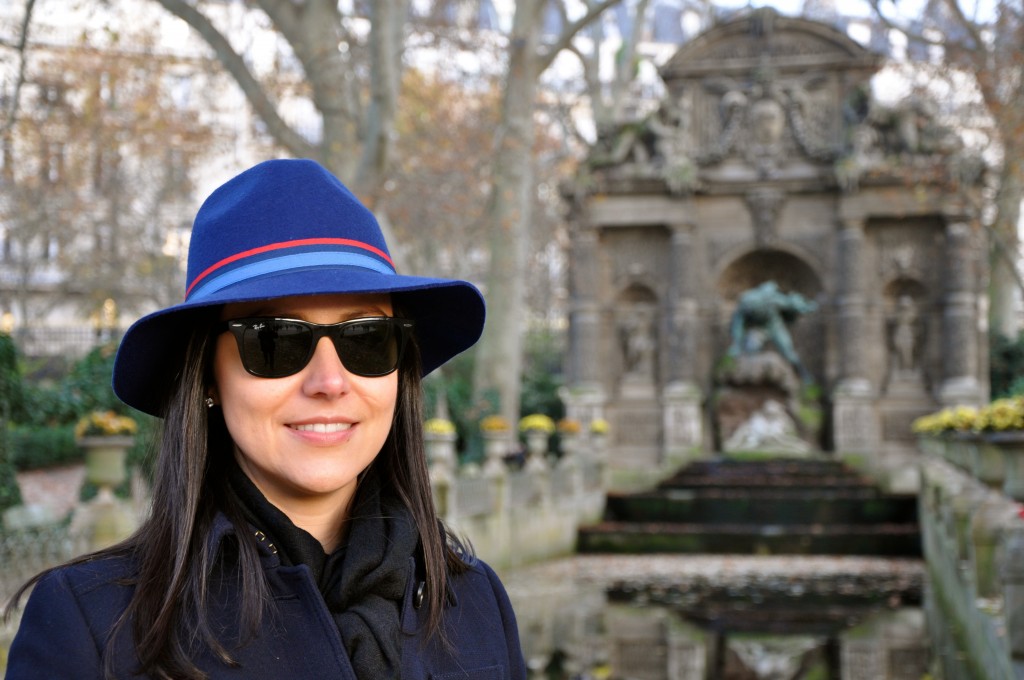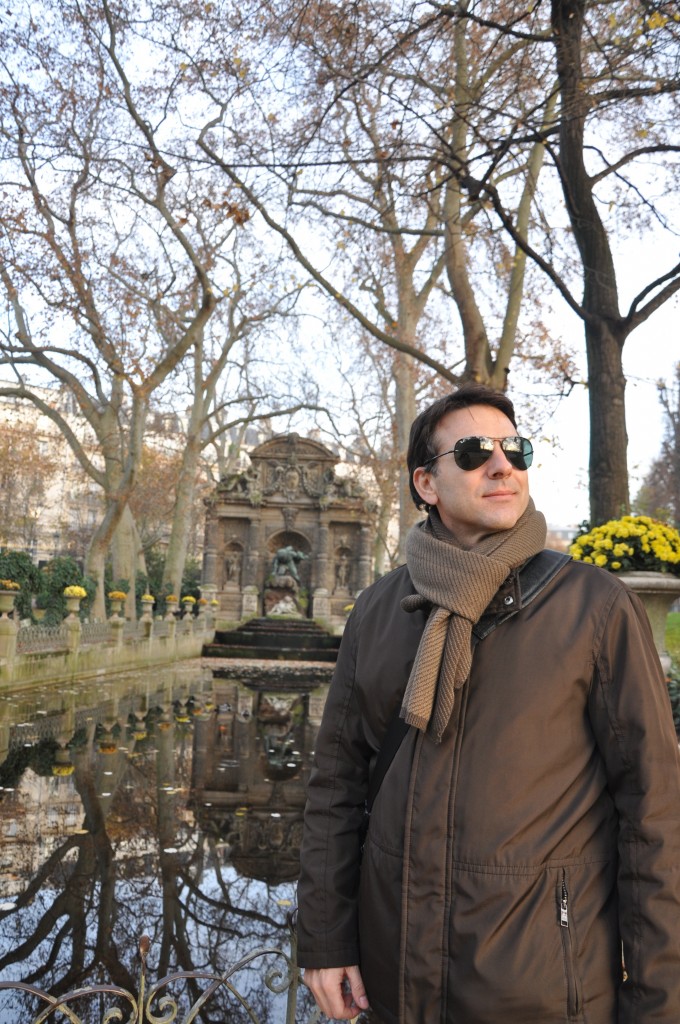 There's nothing like walking the streets of Paris at night. The city lights create a golden glow that lends another layer of beauty to this city. We spent several hours on a pretty chilly night, walking along the Siene, eventually making our way through the grounds of the Louvre.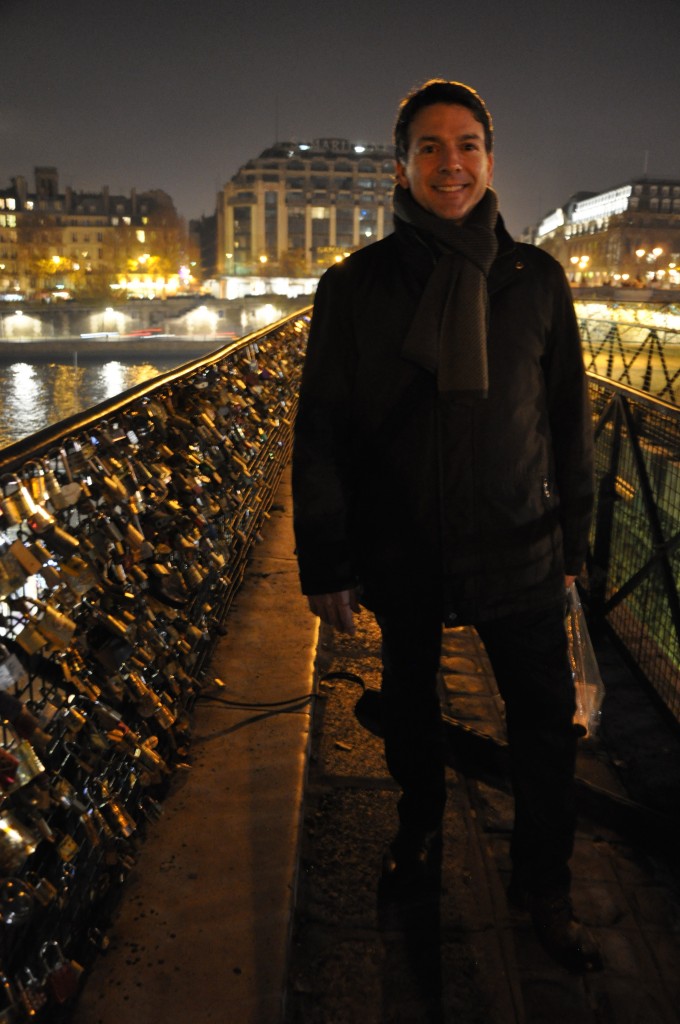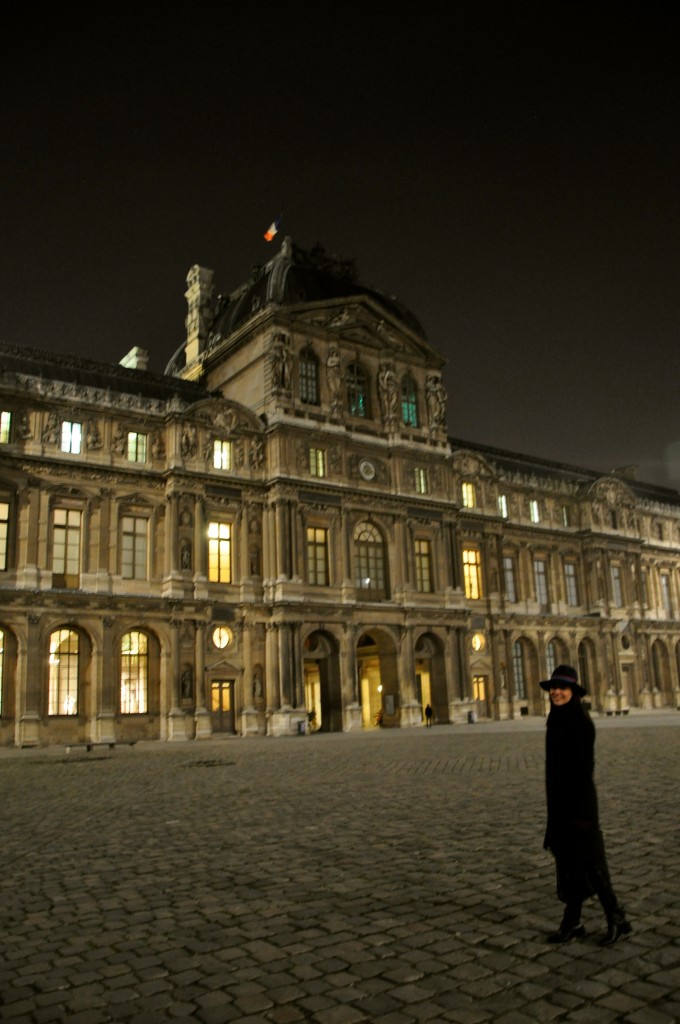 We encountered few people as we walked the grounds of the Louvre.  The lighting made for some wonderful photos. We walked silently together, the only sound being our heels gently clacking along the cobblestone pathways.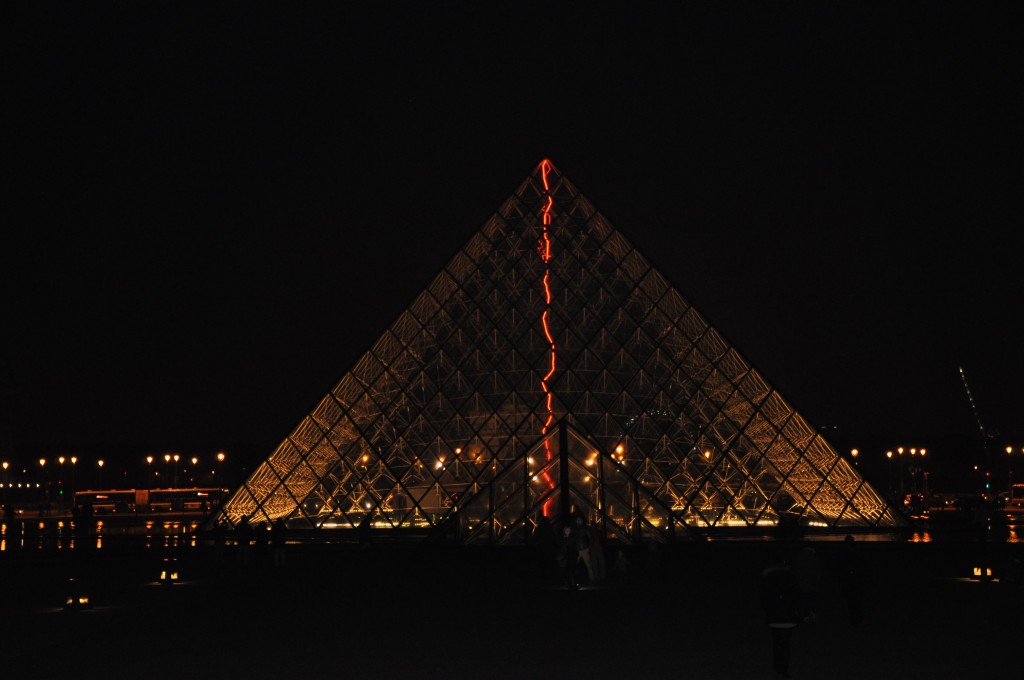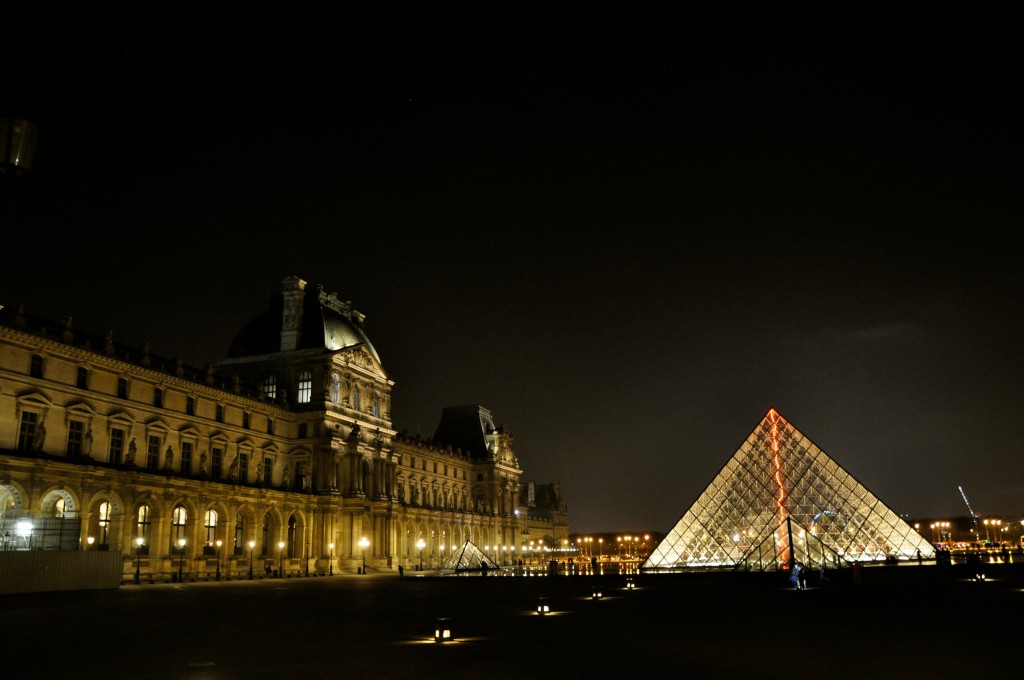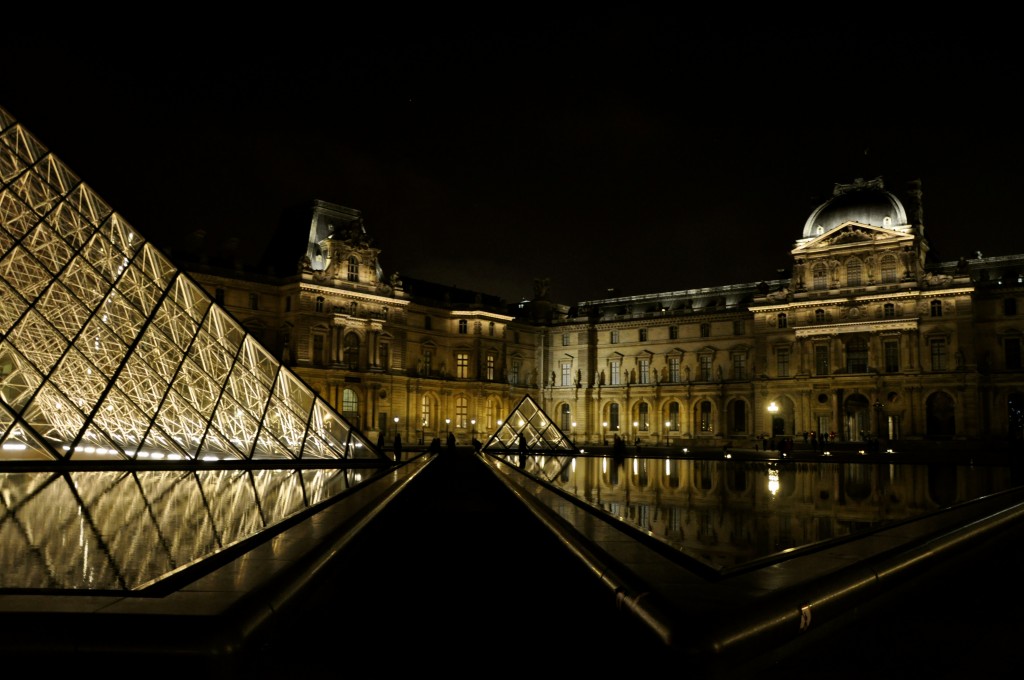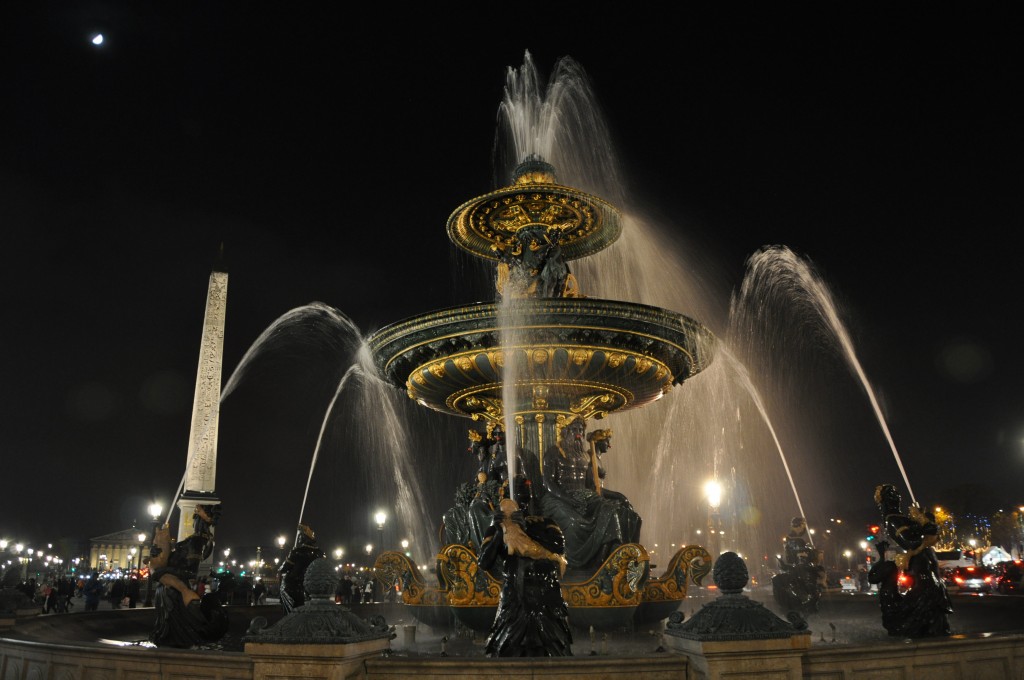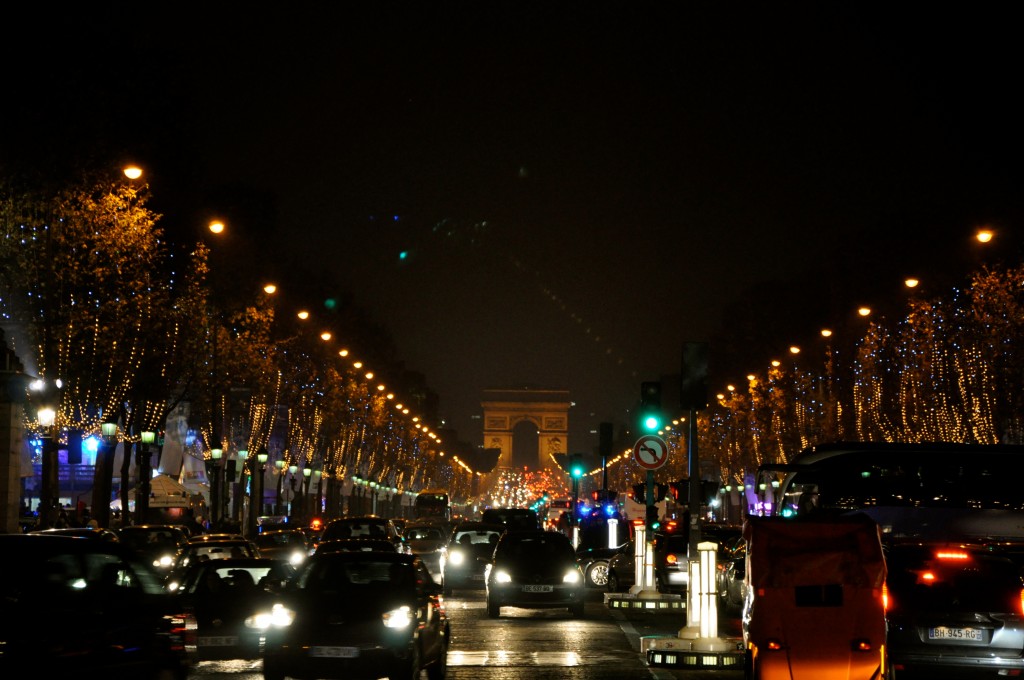 Sometime in November, the city begins to prepare for the Christmas holiday (Joyeux Noel). And no where else is this more apparent then the Christmas markets found throughout the city. We ventured through a few, but none were as magnificent, albeit crowded, as the Christmas market that runs along the Champs-Élysées.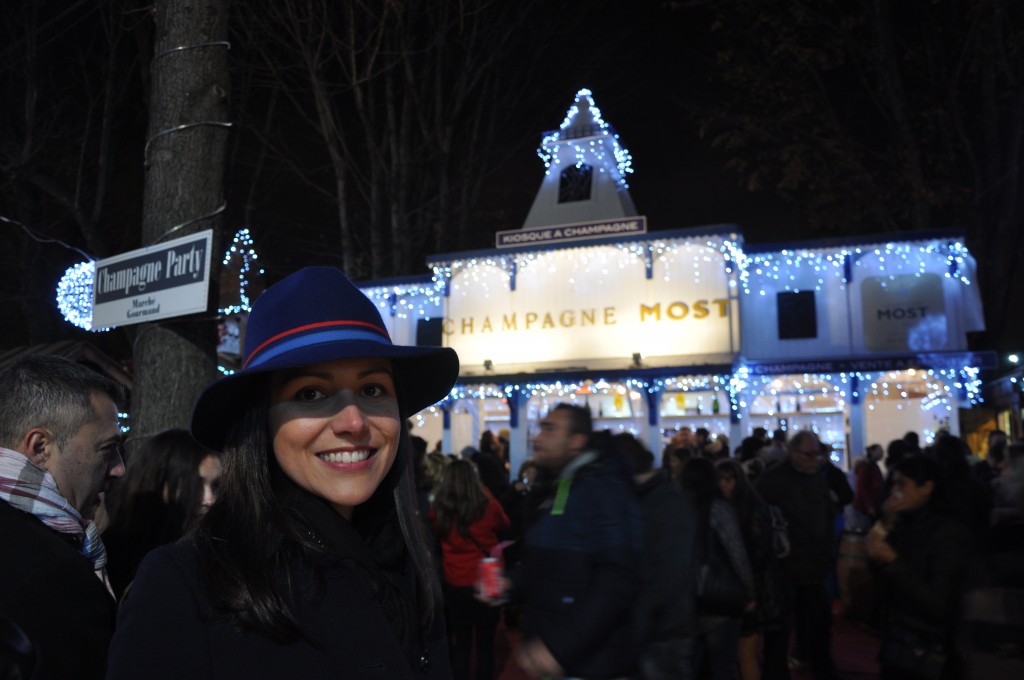 Food stalls line the street with local and international specialties. The smell of seared foie gras drifted through the air in one area that was set up behind the main stalls along the street. Here we found foie gras sandwiches served with sautéed onions on a delicious French baguette. You must find this stall if you're a fan of foie gras.  In this same area was a huge tent offering champagne so you could enjoy a taste of the bubbly while strolling the market. We found music, beer houses, sweet and savory delicacies along our walk. There was also an outdoor skating rink erected just for this occasion off the Champs-Élysées. The night we were there it was a bit chilly, so we decided to sip on some warm homemade vin de rouge, which could be found everywhere.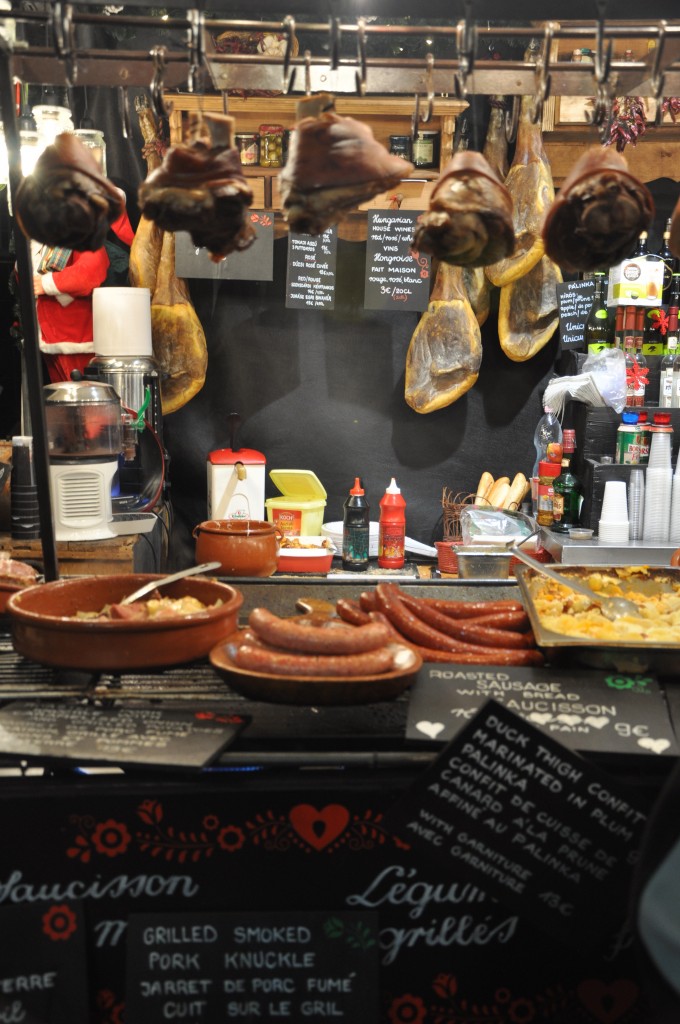 Daylight is short this time of year, and as evening approaches, the lights that decorate the Champs-Élysées make for a magical sight.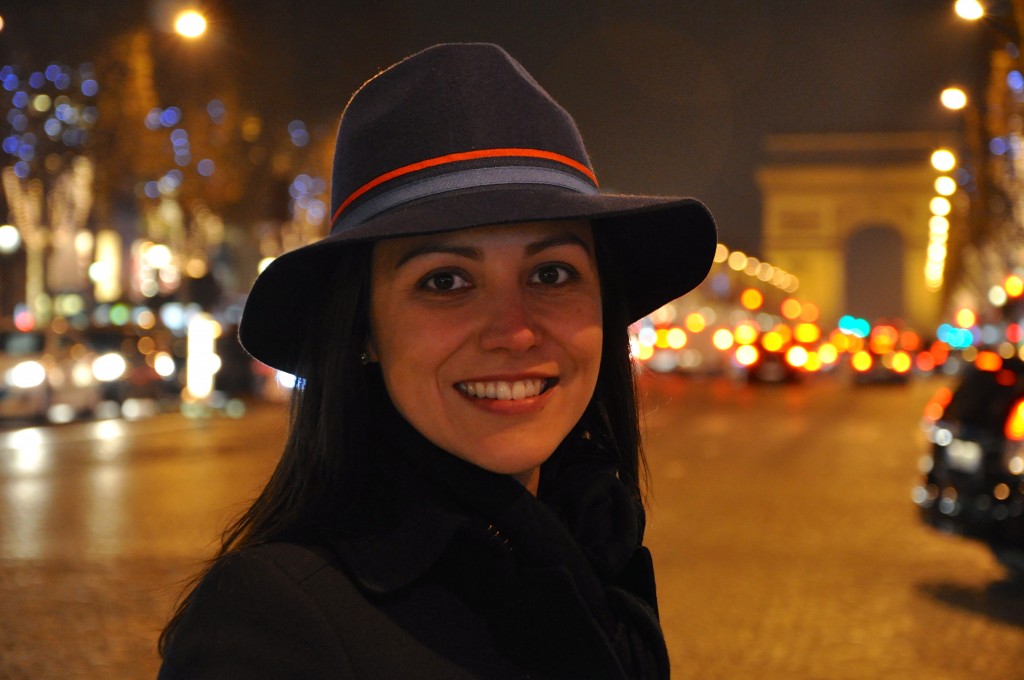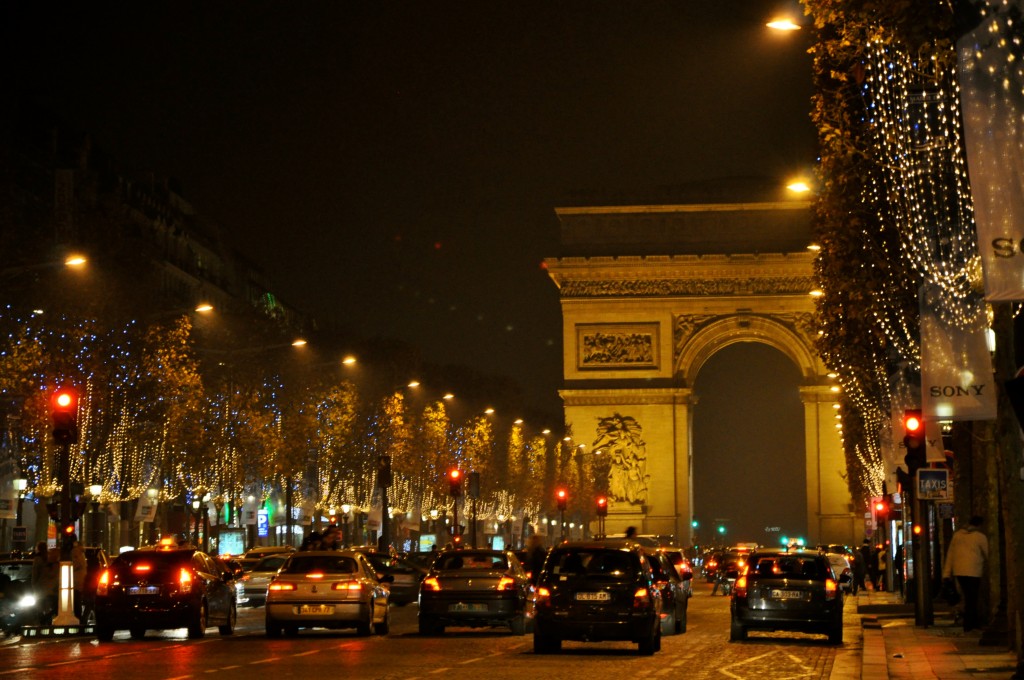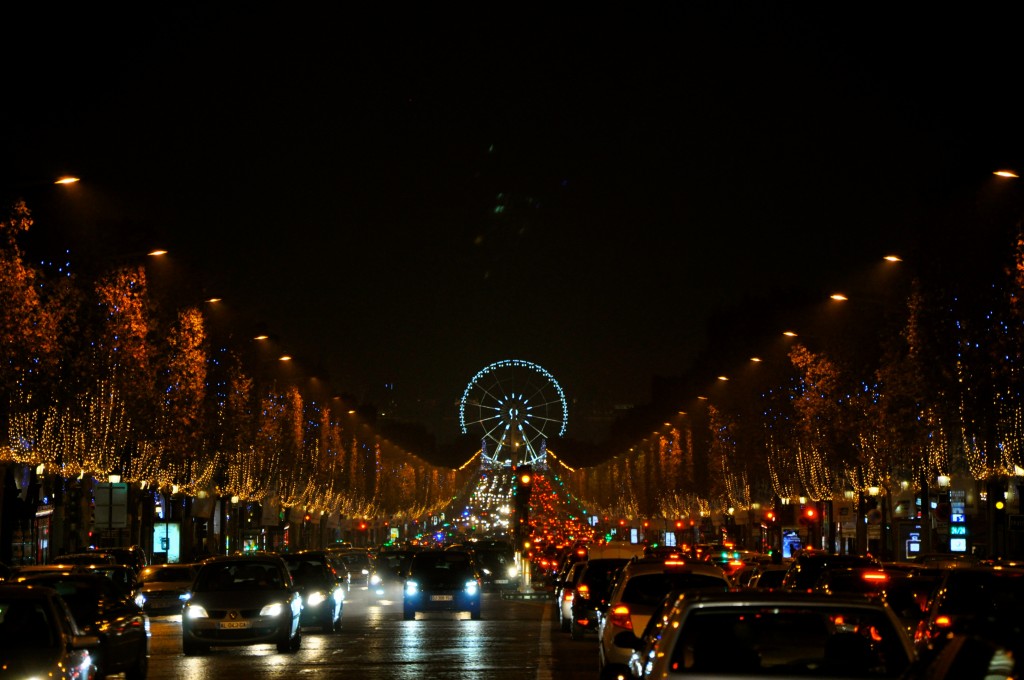 One evening we dined at Maison de la Truffe. This is a must for lovers of everything truffle. We enjoyed an array of different courses from appetizers to desserts all showcasing the delicious truffle. Inside the restaurant they have a small retail shop so you can take home some truffle treats. We opted for the truffle truffles. A box of delicious dark chocolate truffles made with pieces of black truffle. Magnifique!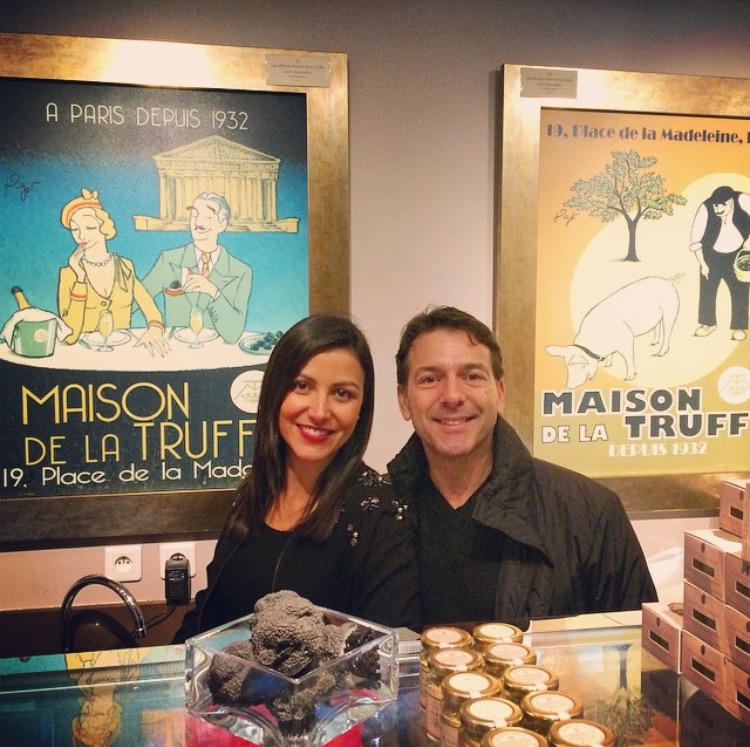 On our last day, we strolled along the Seine, making our way to the Jardin des Tuileries. It was a cold, damp November morning, a perfect time to warm up with a chocolat chaud at Angelina, located across from the gardens at 226 Rue de Rivoli. Don't miss Angelina! It's been here for over a hundred years and is famous for its hot chocolate, macaroons, chocolate and where Coco Channel and other influential Parisians used to gather. We enjoyed a sumptuous breakfast which included an incredible assortment of croissants and pastries.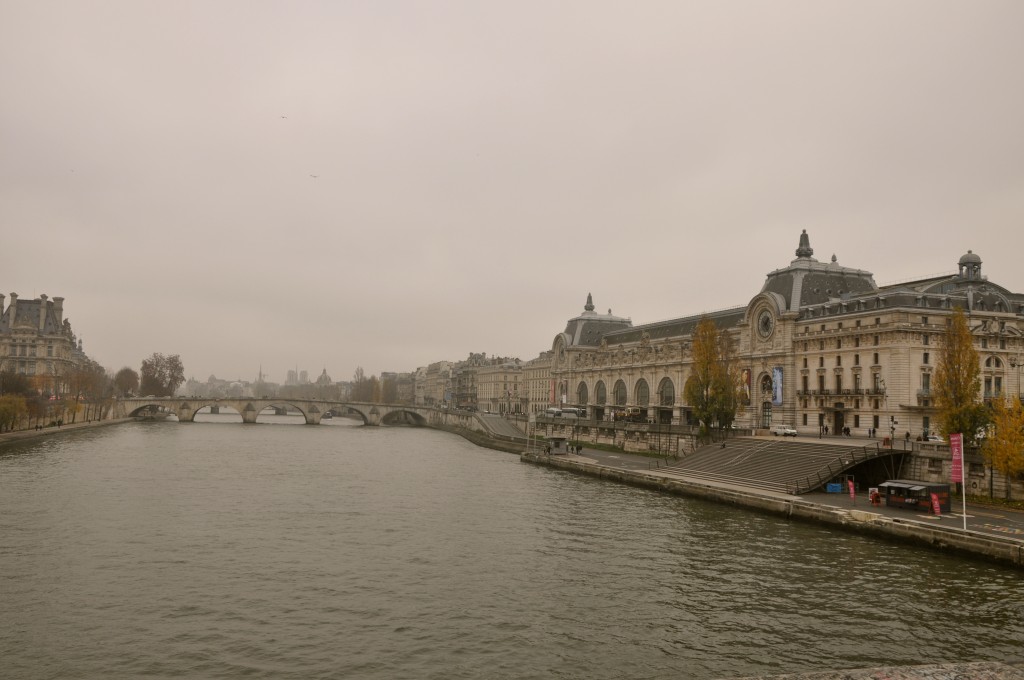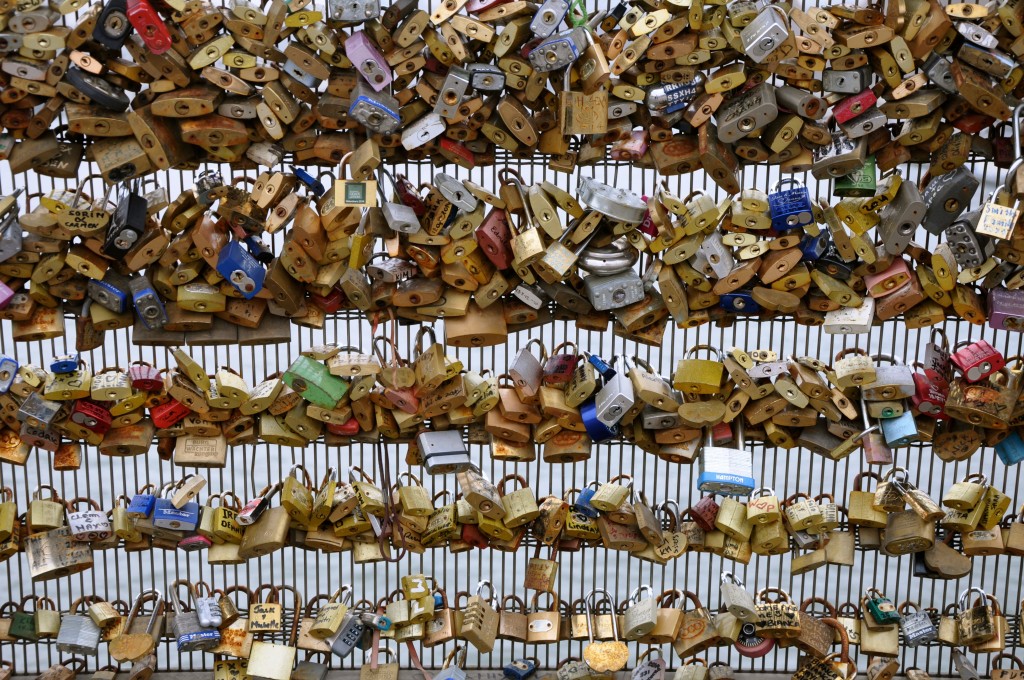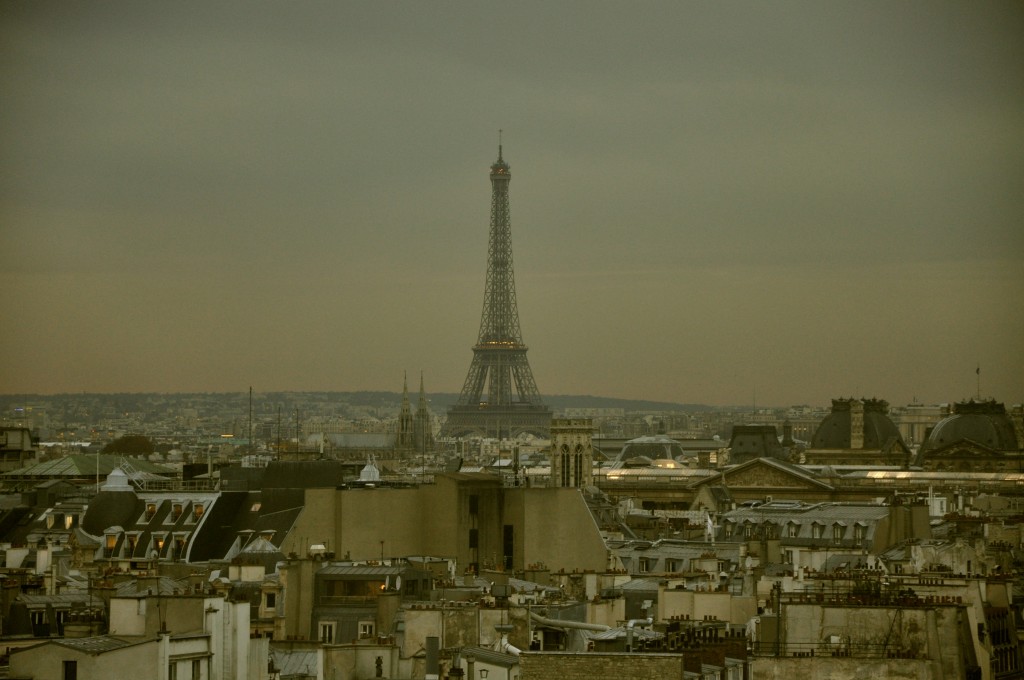 Paris offers so many things for everyone. It's amazing how much you can experience in this great city in just a few days. On this trip we enjoyed getting lost in some neighborhoods we hadn't explored before, dined at restaurants we had always wanted to try, and participated in the holiday spirit along side the people of France. If you haven't been before, make a plan and go. Open your eyes, your mind and your heart, and let the French culture envelope you. Bon Voyage!
Mi-Va-Mi – 23 Rue des Rosiers, 75004
Market – 15 Avenue Matignon, 75008 www.jean-georges.com
Christian Louboutin – 68 Rue du Faubourg Saint-Honoré, 75008 eu.christianlouboutin.com
Ladureé – 16 Rue Royale, 75008 www.laduree.com
Maille – 6 Place de la Madeleine, 75008 www.maille.com
Galeries Lafayette – 40 Bd Haussmann, 75009 www.galerieslafayette.com
Le Marquis de Ladureé – 14 Rue Castiglione, 75001 www.marquis.laduree.com
L'Éclair de Génie – Odéon 13 rue da l' Ancienne Comédie www.leclairdegenie.com
Maison de la Truffe – 19 Place de la Madeleine, 75008 www.maison-de-la-truffe.com
Au Revoir!
Cy & Rich