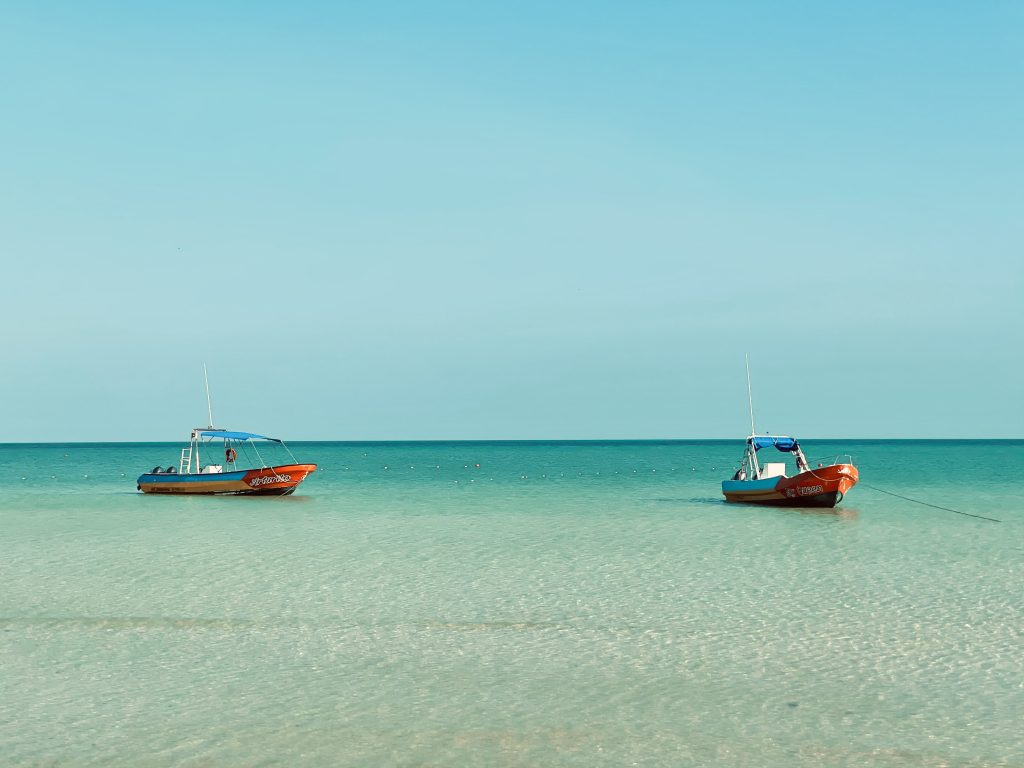 Holbox, Mexico the place you've been looking for to disconnect, while still enjoying the simple pleasures we all look for when getting away from the daily routine. Here, you'll find quiet streets, long stretches of sandy beaches, locals going about their day, and a vibrant mix of restaurants including local street carts in the towns main square. Holbox takes you back to a simpler time.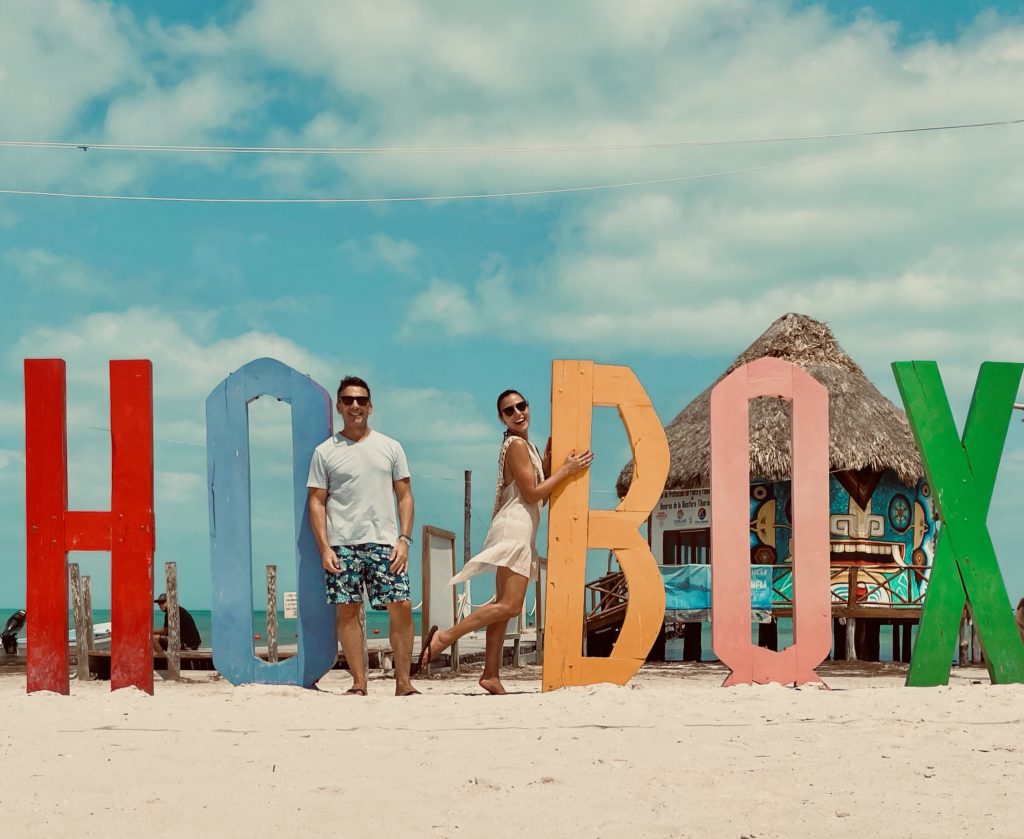 Holbox is a walking town. No paved streets. No cars. Golf cart Taxis are the mode of transportation here, if you choose not to walk or ride a bike. Bikes are easy to rent and cheap. Taxis are also inexpensive if you've got luggage or need to be somewhere quickly. (hopefully you're never in a rush on Holbox). You may also rent your own golf cart. So many options!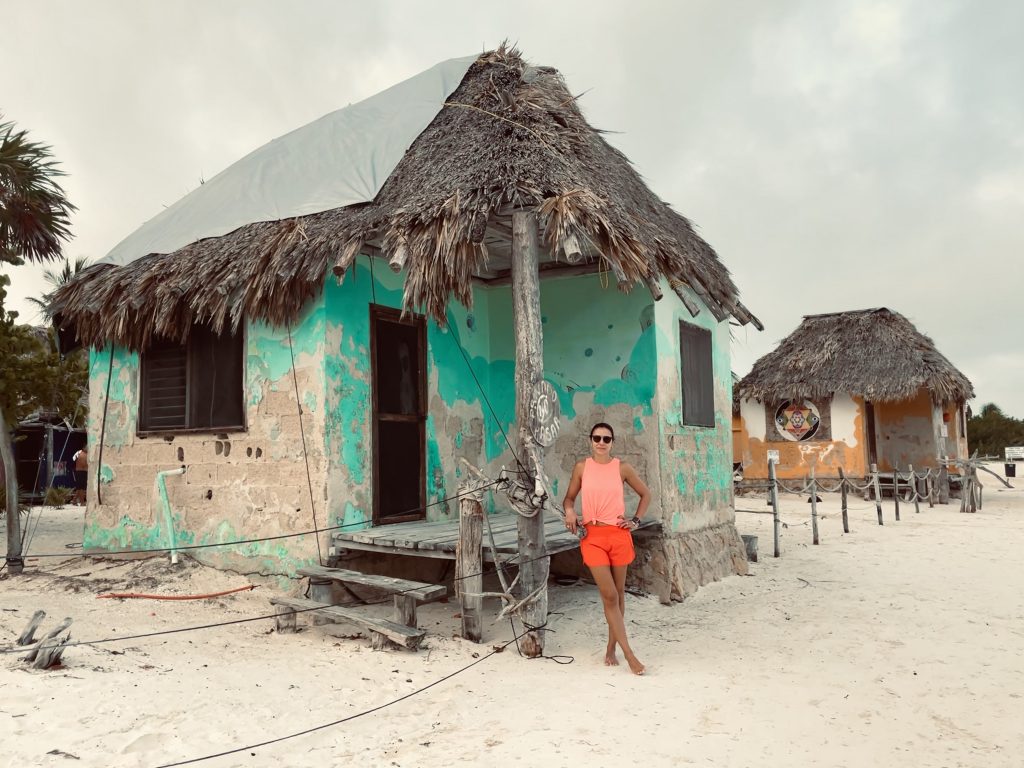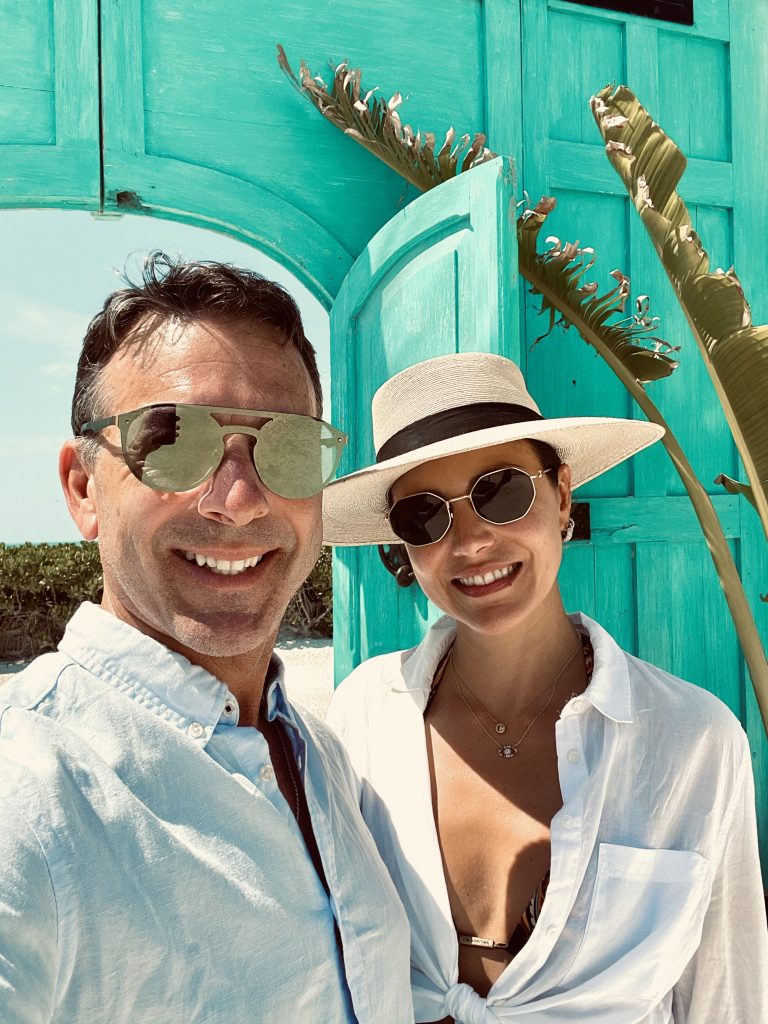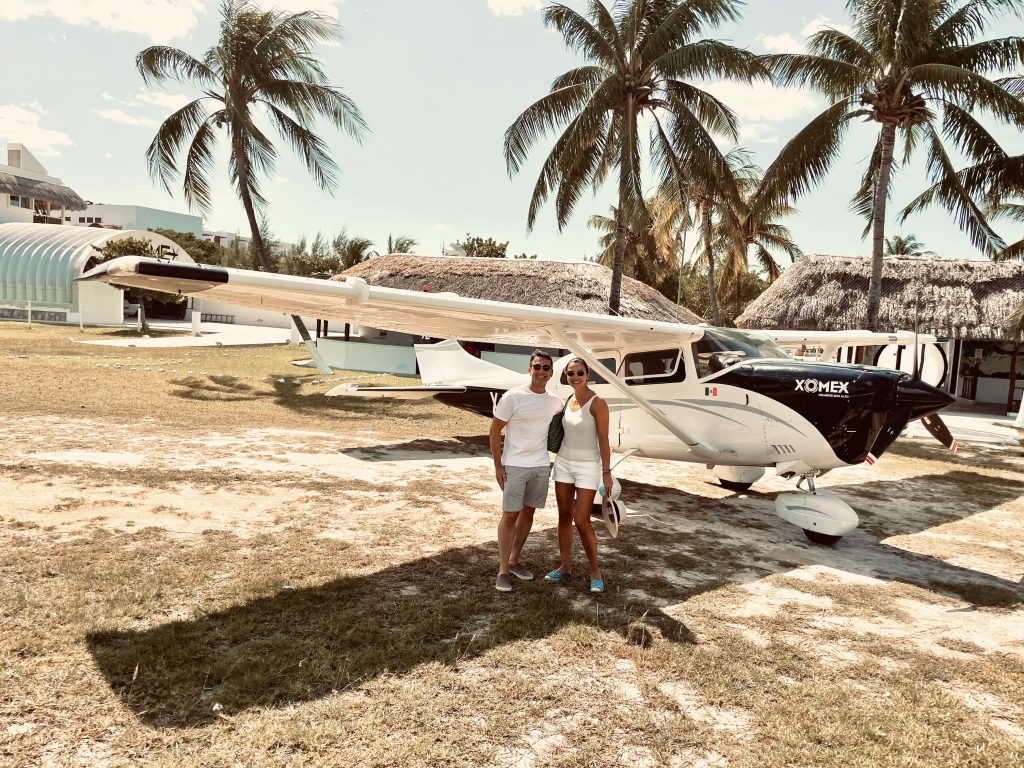 Getting there
From Cancun there's two ways to get to Holbox: drive (or take a shuttle) to Chiquila and take the ferry over to the island or charter a private plane.
Cancún Shuttle offers reliable service at Cancun Airport, but you need to make a reservation before you arrive and confirm with a major credit card. They do not charge your card until you arrive and are in your transport vehicle.
A representative will meet you outside arrivals terminal wearing bright orange vest with Cancun Shuttle sign. They will direct you to your transport vehicle. You can cancel up to 24hrs and online representatives/chat by text were quick to act if when we needed to modify an existing reservation.
If you choose to go by private plane, you will have to to go the FBO terminal, located within the Cancun Airport. You need to take a cab (about 5 min) or wait for the shuttle.
The private plane is bit more expensive than a shuttle/ferry, but very easy, and the views as you approach Holbox from the air are truly memorable. We chose Flights Holbox and reserved online. A simple down payment with credit card, then we paid cash to the pilot (dollars or pesos) when flight was completed. You can pay by credit card for everything, but the surcharge to do so was rather high. Save the money for Mezcal.
Hotels
There are many options in this category from budget to higher end. We decided to spend our time between two hotels, each located on opposite sides of the main town. There are differences from one end of the island to the other, each offering its own experience.
Casa Las Tortugas
We stayed here for a few nights. Very central location. On the beach, offering a lazy "under a palm tree canopy," beach area with hanging day beds, hammocks and laid back vibes.
Each room is well appointed, renovated a few years ago with no TV, or phones ( you communicate via Whats app) but decent wi-fi connection. Breakfast is included in the price. They have two excellent restaurants- Mandarina and Lumma (across the street) both including healthy options. Casa Las Tortugas is a place where you step right out onto sandy paths that lead to the beach, pool and restaurants. No shoes required. Each evening everyone gathers beachfront for mezcalitas, and margaritas to watch the sunset. As the day turns to night, Casa Las Tortugas lights up for the perfect evening atmosphere.
Mystique
Soon to be a part of Marriott Hotels portfolio, Mystic is a more modern hotel, with spacious rooms, offering all the amenities. We chose one of the suites which included 2 private terraces looking out to the ocean. The hotel has a pool and a beach front restaurant, Fresco. Mystique is located on a quieter part of the island, closer to Punta Cocos. While staying here, the hotel staff arranged rental bikes for us, which was perfect as we spent time exploring the west side of the island. We also enjoyed almost empty beaches during morning walks. The location where Mystique sits is also a popular spot for those watching the sunset each evening. And if you'd like to see Holbox by horseback, there's a stable next door offering daily rides.
Other options:
Ser Casasandra
One of the higher end hotels, unfortunately booked for the nights we visited. A beautiful hotel, set back from the beach with a well groomed property. This is the perfect hotel for those who want serenity, and pampering. Across the street, they have their own palapa, Mojitos, offering beachfront dining and happy hour!
Aldea Kuka
Villas Flamingo
Food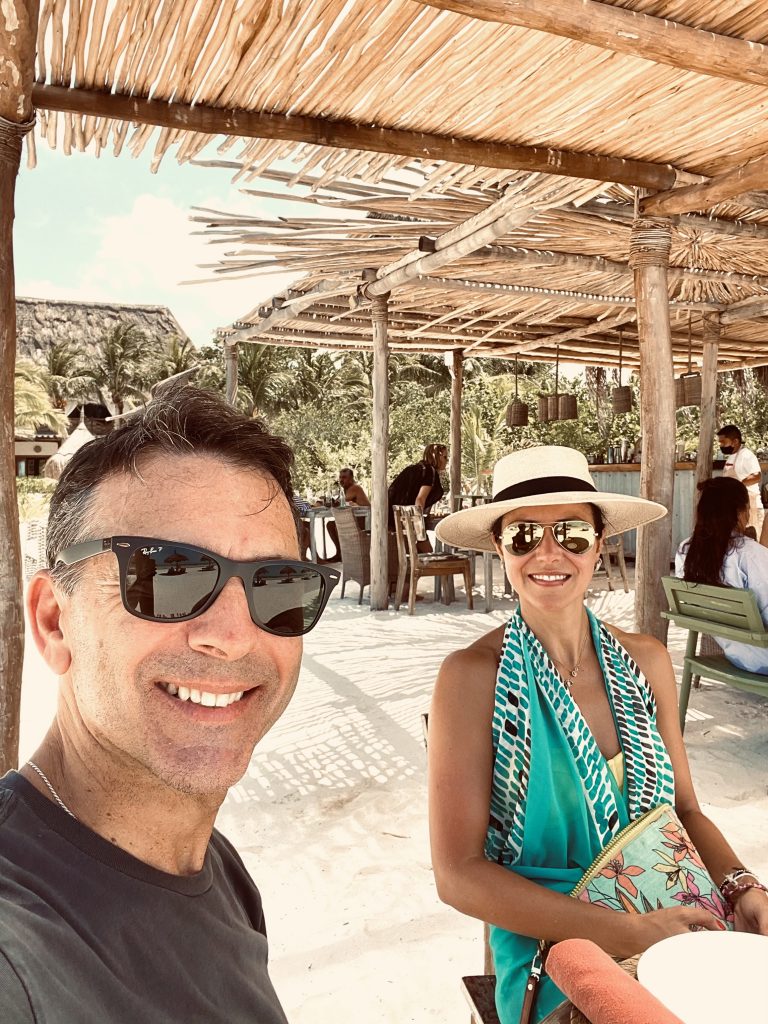 Basico
What a fantastic restaurant!! The atmosphere alone, sets this restaurant apart from the others in town. Everything was amazing from the service to the food and cocktail options. We tried their taco cochinita, tuna toast, queso with spinach & tomato sauce and the pork belly. The drink menu is creative and delicious. A must try in Holbox!
Mojito
Ser Casasandra has their own beachside restaurant and bar called Mojito! Chic with good vibes, this is a great place for lunch and happy hour, while partaking in some people watching. We tried the fresh seafood ceviche and shrimp tacos. Delicious!
Ser Essencia
Dinner at Ser Essencia was incredible. The menu was creative and delicious. The seafood was extremely fresh! We opted to dine outside, enjoying the ambient lighting to set the mood. The staff was attentive, and welcoming. Great option for a romantic dinner.
Mandarina
Casa Las Tortugas beachfront restaurant offers creative, healthy options for breakfast, lunch and dinner. Since we stayed at Casa Las Tortugas we enjoyed breakfast here each morning. The casual, laid back, feet in the sand atmosphere is exactly what we were looking for in Holbox. The food here did not disappoint. Great place for watching the sunset and enjoying their daily happy hour too!
Luuma
Across from Casa Las Tortugas, Luuma has the Tulum feeling with laid back atmosphere, lighting and a menu to impress. Whether choosing from black squid ink empanadas or Mezcal crafted drinks, Luuma is a Holbox destination. Menu includes vegan and healthy options. Luuma also has a shopping boutique, Le Bazaar offering chic designer options.
Fresco
Beachside location at Mystic Blue Hotel. BLD – full menu of fresh seafood entrees, and local Mexican specialties. Good option for dinner at sunset, but also a relaxing place for lunch with ocean breezes under the thatched roof! Good Micheladas!
Kukatch
The Aldea Kuka beach bar restaurant, located on property, not seaside, is the perfect blend of beautifully crafted dishes and ambiance. The Aqua blue doors lead you to Holbox heaven. The grilled fresh catch is a winner! Try the "Soup of the Day," … Mezcal.
Viva Zapata
Specializes in seafood and Mexican cuisine. Casual with a warm atmosphere. We tried the ceviche and grilled fish tacos. Their fresh tortillas were delicious. Good place for gringos, Not foodies. They take all credit cards.
Shopping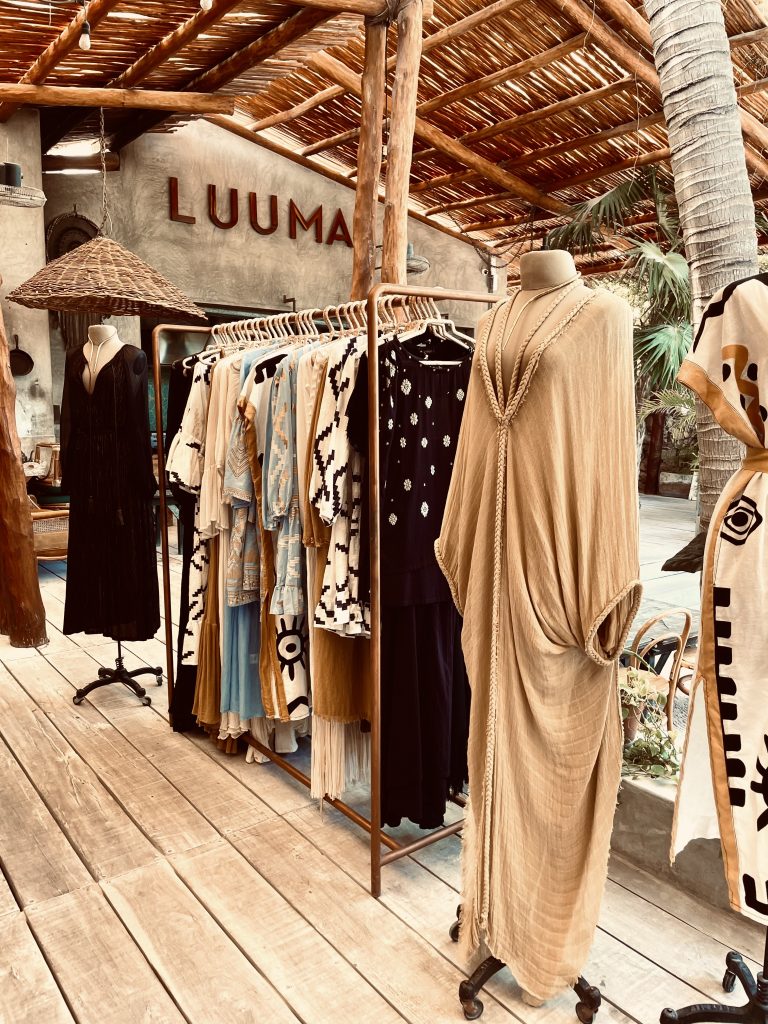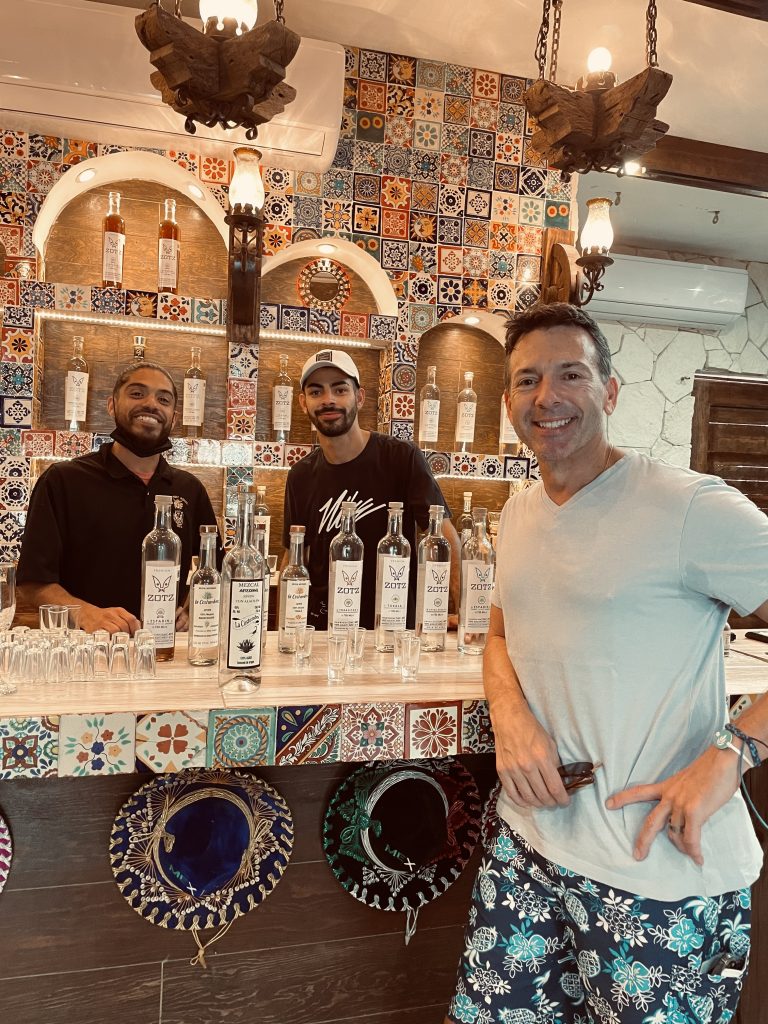 Le Bazaar- Avenida Damero (Inside Luuma)
Here you will find vintage and handmade items from around the world. The store is located in the same space as Luuma, and stays open until late. Definitely one of the best shops in Holbox.
Gitana– Calle Tiburón Ballena
Chic local designer boutique shop. Flowery dresses, straw hats and bags. All made in Mexico.
Sombra– Calle Tiburón Ballena
Local shop in Holbox offering a fine collection of t-shirt and hats, sunglasses.
Estacion Tequila – Calle Tiburón Ballena
One stop shop for tasting and purchasing local Tequila & Mezcal you can't find back at home. The staff, Samuel and Gabriel were wonderful, as they helped us navigate through the history of Mezcal while tasting different types of this Aztec spirit, without feeling obligated to buy. Having a love of Mezcal, we bought a few bottles. A fantastic experience if you love Tequila & Mezcal. Stop by and let them showcase their proud heritage.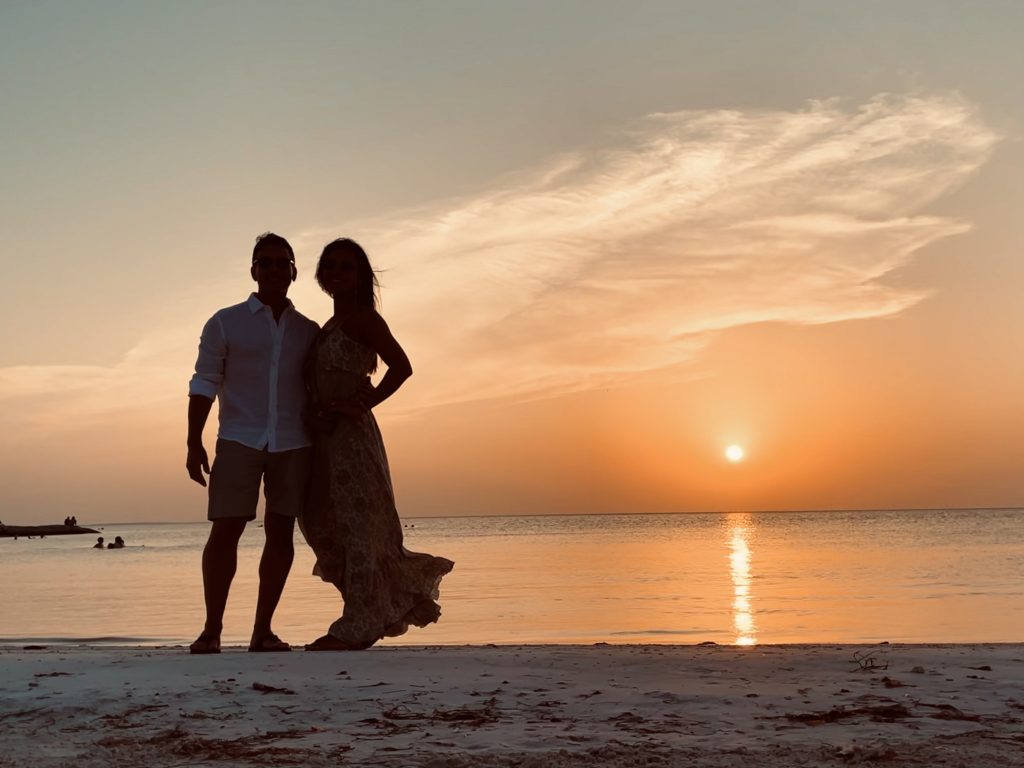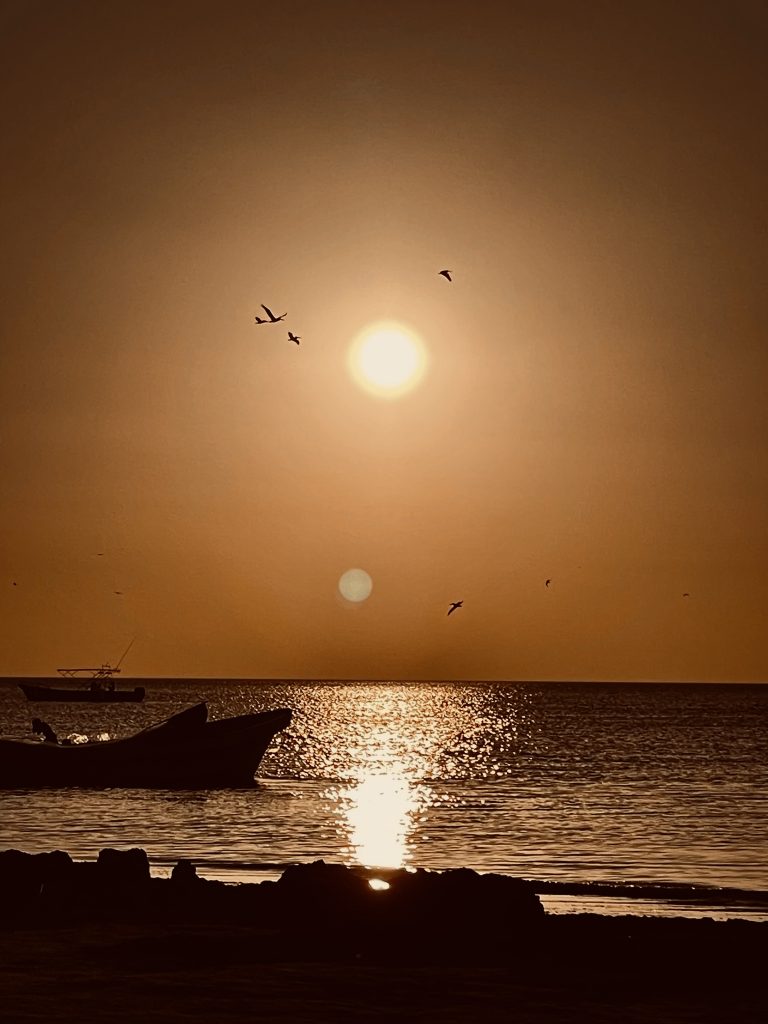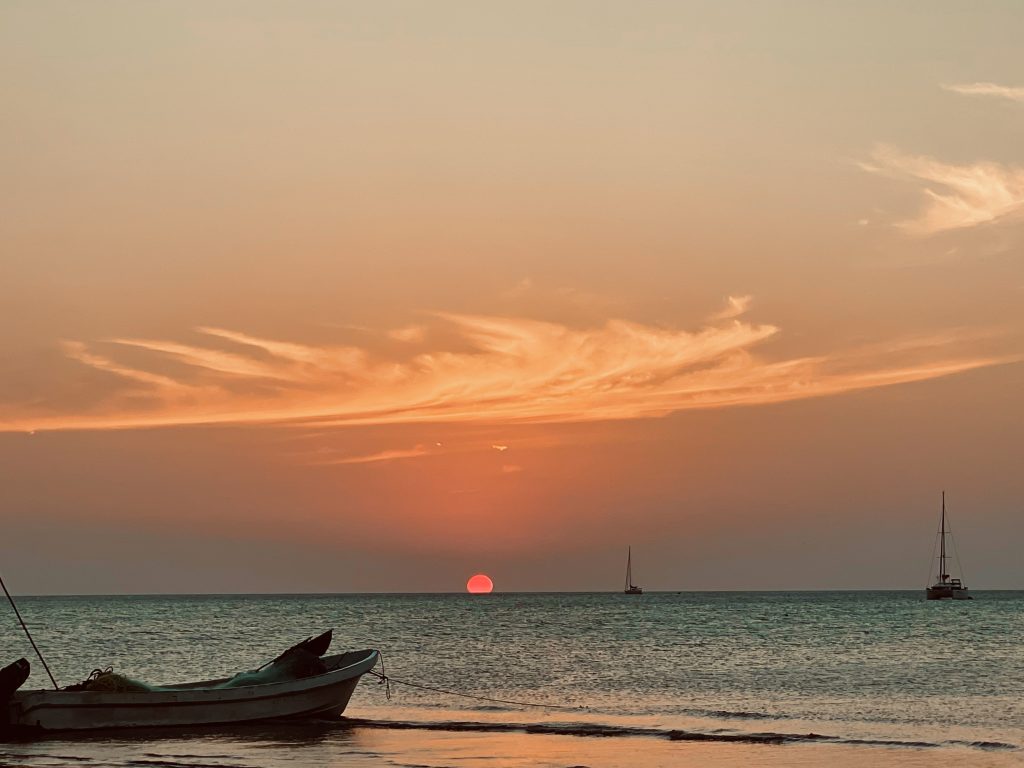 Sunsets in Holbox are not to be missed. Every evening, without question, everyone gathers to see the sun as it dips into the ocean, leaving behind a colorful display befitting for a place as Holbox.
Punta Mosquito
If tides are low you can walk out to the sand bar. Best time is morning. Walk to the end of beach, just after Moskito Beach Club and cross through the water to the sand bar. Best to check the tide tables before you go.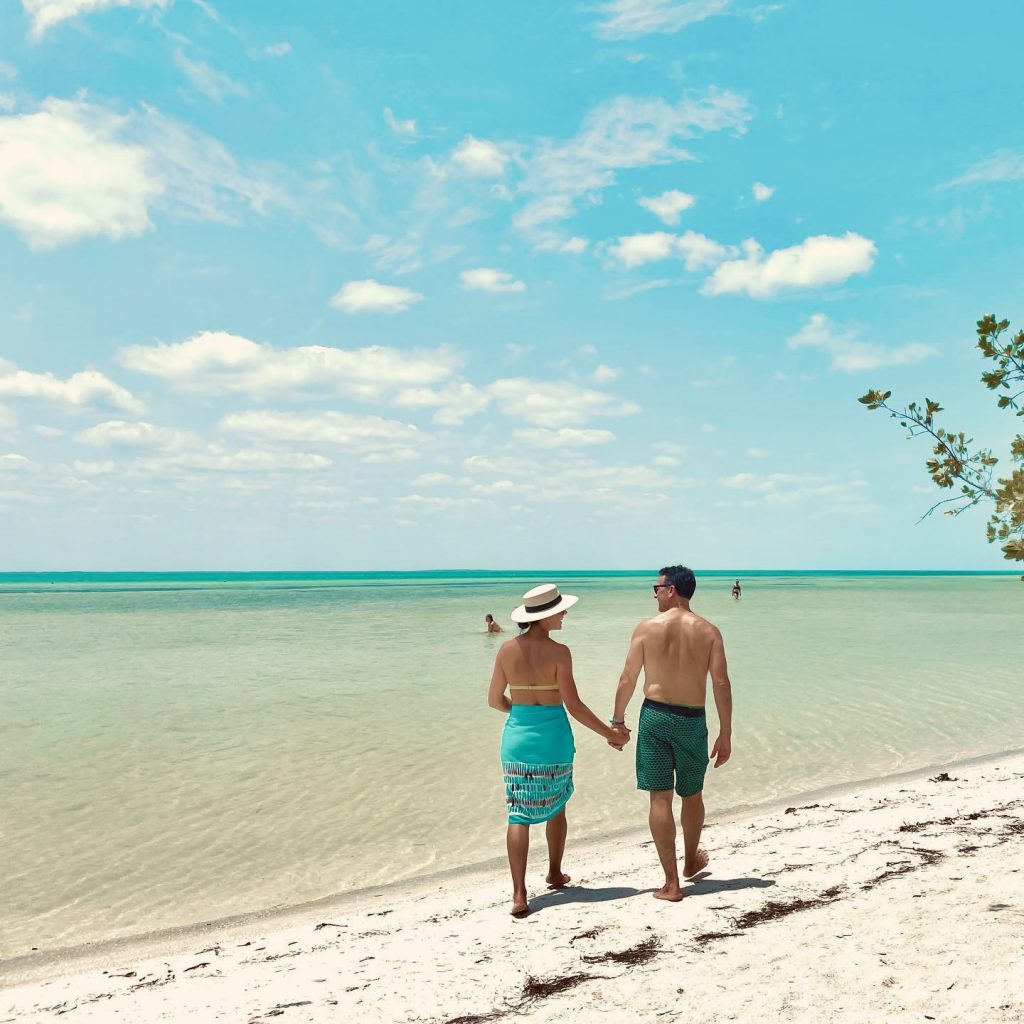 Punta Cocos
Not too far from town, about 20 mins by bicycle, Punta Cocos is a nice quiet beach area to sun and swim. There's a palapa with drinks and food, they rent chairs as well or just you can just find a seaside tree to relax under. There's a place to park your bike and a guy selling fresh coconut water to rehydrate you. Walk to the end to find a small bay to swim if not to windy.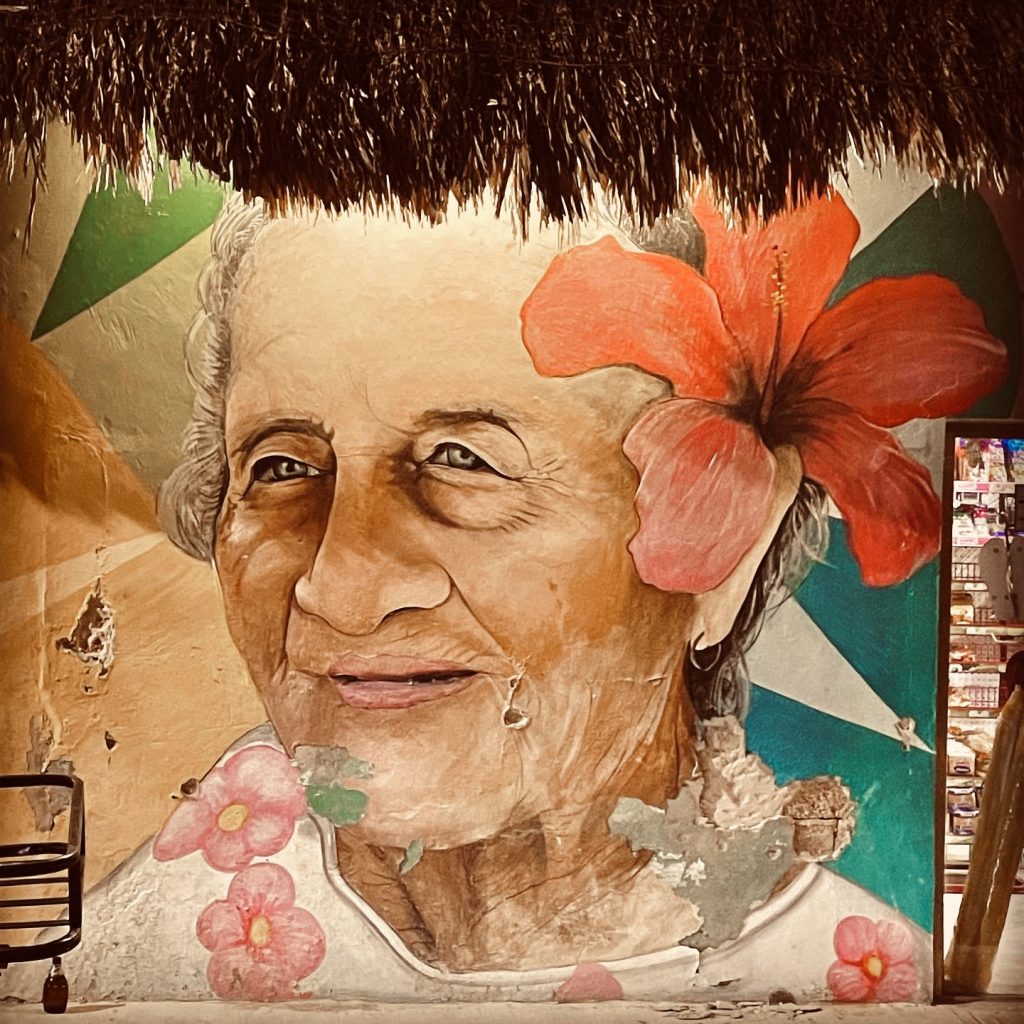 Murals
Art abound throughout Holbox. Walk the sandy streets and enjoy the outdoor museum of colorful murals!
A vacation getaway to Holbox is just that. We found the island to be welcoming and laid back. It's Mexico the way Tulum and even Cabo were before everyone caught on. One could only hope it stays this way forever. Walking along the stretch of beaches, the sandy streets of town, the lively center of town at night and meeting locals who are genuinely happy you've made the trek to see their island, makes Holbox a special place. And you can truly disconnect while still being able to enjoy fantastic local food, music, water sports, and gourmet dining.
For our first visit, it was better than we ever expected. And we'll be back soon, before everyone finds out about this little piece of Mexican paradise.